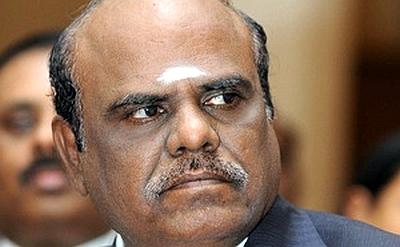 Calcutta high court Justice CS Karnan has demanded Rs 14 crore from Chief Justice of India JS Khehar and six other senior judges as compensation for "disturbing his mind and normal life".
In a two page letter written to seven judges who were part of the special bench which had issued warrant against Justice Karnan, he said, "You have constituted an unconstitutional bench after breaking the Indian constitutional law and passed a suo motu contempt order and restrained me from judicial and administrative work and that order was passed with malafide intention in order to harass a Dalit Judge (myself)."
"Judge means a dignified person of law who has to hear both sides of the case and pass order in accordance with law. Hence, I request you (CJI and other six judges) to cancel the unconstitutional bench and restore my normal work. The seven judges should pay compensation, a sum of Rs 14 crores since you have disturbed my mind and my normal life, besides you have insulted me in the general public consisting of a population of 120 crores in India due to lack of legal knowledge," the letter reads.
Karnan's letter comes six days after the Supreme Court issued a bailable warrant against him for failing to appear for contempt proceedings despite its notice.
The contempt proceedings have been initiated against Justice Karnan for writing letters to various judges including the prime minister, accusing several judges of corruption.
A seven judge bench headed by Chief Justice J S Khehar had directed the Director General of West Bengal Police to execute the warrants on the judge to ensure his presence on March 31 after he failed to appear even today despite being served with contempt notice.
Bengal's top cop serves bailable warrant to Justice Karnan
West Bengal Director General of Police Surajit Kar Purakayastha on Friday served a bailable warrant to Justice C S Karnan of Calcutta high court which was issued by the Supreme Court in a contempt case on March 10.
The DGP visited the residence of Justice Karnan in New Town area along with Kolkata Police Commissioner Rajeev Kumar and DIG (Criminal Investigation Department) Rajesh Kumar and handed him over the warrant.
"The DGP handed over the bailable warrant to Justice Karnan at his New Town residence this morning," a senior official of the state police force said.
A large police team was posted outside Karnan's residence when the three senior police officials visited the place.
In an unprecedented order, the Supreme Court had issued the arrest warrant against Justice Karnan to ensure his presence before it on March 31 in a contempt case.
Hitting back at the apex court, Justice Karnan had stated that they have "no locus standi" to issue a bailable warrant against a sitting judge and alleged that he was being targeted for being a dalit.
Justice Karnan also issued an 'order' of registration of a case under Schedule Caste and Scheduled Tribe (Prevention of Atrocities) Act, 1989 against Chief Justice of India Justice J S Khehar and six other judges.
-- With inputs from PTI