Most of India knows Deep Sidhu as the man who planted the Sikh religious flag on Red Fort.
Aditi Phadnis gives us the back story.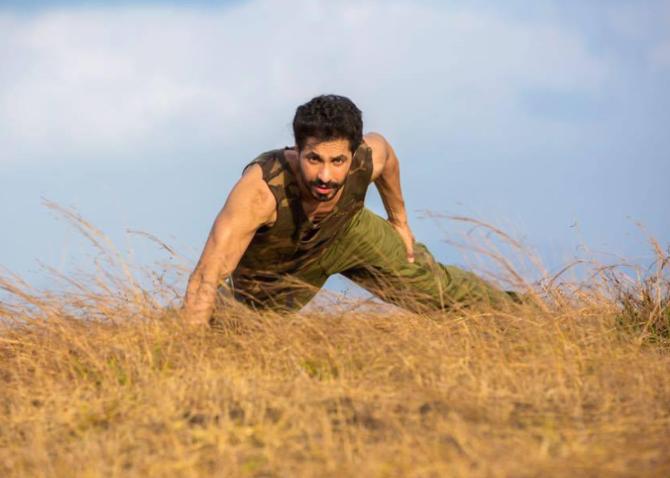 If you don't watch movies in Punjabi, you can be forgiven for not knowing who Deep Sidhu is.
Actually, you might not have heard of him even if you do watch Punjabi movies.
As a film actor, Sidhu is not yet a household name, though he is working hard to get there.
He is the individual who planted the Nishan Sahib or the Sikh religious flag atop the Red Fort on January 26.
'To symbolically register our protest against the new farm legislation, we put up the Nishan Sahib and a farmer flag and also raised the slogan of Kisan Mazdoor Ekta,' he said.
With this one act, Sidhu may have become the face of the Punjab farmer-protestors as the movement descended into chaos with attempts to take out a parallel tractor parade on Republic Day.
The move might do Sidhu's wobbly career trajectory as an actor some good, though most participating farmers are not quite sure exactly who he is.
If you are from Punjab -- whether you are a bureaucrat, politician, soldier, entrepreneur or actor -- you need to have a view on the farmers' protest against the three central laws.
It is hard to sit on the fence -- as actor and former BJP Lok Sabha MP from Bikaner, Dharmendra, discovered after posting tweets beseeching the central government to review the laws -- which he deleted in double-quick time.
His son Sunny Deol, who represents the Gurdaspur Lok Sabha seat on behalf of the BJP, is yet to indicate his views on the protest movement. Sidhu may have developed political ambitions after Sunny Deol's victory in the 2019 Lok Sabha election: He was part of the group that worked for Deol. Deol has since dissociated himself from Sidhu.
Sidhu was the winner of the Kingfisher Model Hunt that began his career in glamour. He walked the ramp for designers Hemant Trivedi and Rohit Gandhi.
After this, he studied law and worked with several firms such as Sahara India Parivar and Balaji Telefilms. He also opened his own law firm, Lex Legal, which handled clients such as Vijeta Films, Red Chillies, PVR Pictures, Colours and Sony Pictures.
But his real passion was acting and his debut film was Ramta Jogi (2015), produced by Dharmendra. A moderately successful Punjabi movie, Jora 10 Numbaria, followed. This chronicles the journey of a boy who grows up to become the dreaded gangster, Jora (Sidhu).
Dharmendra also starred in the movie, which was released in 2017 and is an adaptation of Gangs of Wasseypur. The villains in the movie are both politicians and corrupt police officers.
The highlight dialogue is Dharmendra (Jagga), telling Jora, 'Gunde te guerelle wich bada fark honda hai (there a big difference between a gangster and a guerilla).'
That movie was successful enough to merit some discussion about a sequel, which is reportedly in the works. But not much has been heard of Sidhu after that in the Punjabi movie world. Or in the universe of politics.
Till January 26.
The Punjab film industry is not like the Tamil or Telugu film industry where actors are politicians and politicians are actors.
Shailesh Kapoor, media analyst and CEO and founder of Ormax Media, a production house, says the national studios, Indian and foreign, like Disney, Fox or even Yash Raj films have so far not invested in Punjabi movies that have developed through home-grown labels, financed and produced sometimes by actors themselves or by small local financiers.
Punjabi films reported a box office collection of around Rs 250 crore (Rs 2.5 billion) in 2019, about 2 per cent of the overall India box office collections.
That said, he says, the Punjabi film industry is growing at a steady 10 to 15 per cent annually. Kapoor says what works for Punjabi movies is music: music stars are usually film stars as well.
But that is not to say films with politics as the theme have not been a success. In 2014, Punjab: 1984, the tale of a mother's search for her son during the insurgency, did phenomenally well.
A box office hit was the 2014 release Chaar Sahebzaade, produced by Eros International and Baweja Films, which is thought to have grossed Rs 70 crore (Rs 700 million).
A Deloitte report from 2017 says the growth in Punjabi films is not only because of over the top and digital delivery. Punjab is one of the states where multiplexes are increasing: the number of multiplexes in Punjab has grown from four in 2007 to 36 in 2016 with 99 multiplexes under construction.
With all this, clearly, Sidhu sees a future for himself in politics as well as cinema.
While farmers and politicians might be wagging their finger at him now, his face is the one recognisable image from the farmer protest.
Whoever said publicity doesn't do you any good?