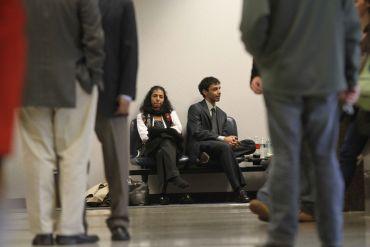 Jurors deciding the fate of India-born Rutgers student Dharun Ravi accused of spying on his gay roommate, who later committed suicide, finished the second day of their deliberations without reaching a verdict.
The jury -- comprising five men and seven women aged between 20 to 70 years -- will resume its deliberations later on Friday in a New Jersey court on the 15 charges of invasion of privacy, bias intimidation, witness tampering and hindering prosecution that Ravi faces.
After hearing testimony from over 30 witnesses over 12 days, the jury began its deliberations on Wednesday.
Ravi did not take the witness stand in his defence. The jury has now deliberated for nearly 10 hours over two days.
Ravi, 20, is accused of invading the privacy of his Rutgers roommate Tyler Clementi when he used a webcam to watch Clementi kiss another man.
Ravi had then sent text messages to some of his other friends inviting them to watch the sexual encounter.
Clementi committed suicide in September 2010, days after he found out that Ravi had seen his intimate meeting with his partner.
The case has generated immense national interest as it threw light on issues of cyber-bullying and treatment of young gays and lesbians.
The New Jersey court-room has been packed with a large media contingent throughout the trial.
Reporters thronged the lobby of the courthouse as they waited for a  verdict from the jury. Members of families of both Ravi and Clementi have been present in the court daily.
As the jury sat deliberating in a separate room, Ravi was sitting in a corner of the court's lobby, looking composed and smiling occasionally as he talked to his family.
After Middlesex County Superior Court Judge Glenn Berman brought the day's proceedings to a close, Ravi was escorted out of the court room by his lawyer, who kept a hand on Ravi's shoulder in a sign of support.
Clementi's family sat in a group in a different corner of the court lobby.
Ravi's defence lawyer Steven Altman has maintained that he did not mean to intimidate Clementi when he spied on him and his actions were immature and childish.
The prosecution has argued that Ravi was not comfortable with having a gay roommate and his actions were "criminal."
For Ravi to be convicted on the more serious bias intimidation charges, the jury will have to agree unanimously that Ravi harboured hatred for gay people and his spying through a webcam was not a mere college prank.
If convicted, Ravi faces a 10 year prison sentence and possible deportation to India.
Image: Dharun Ravi with his mother while waiting for the verdict at the lobby of the court room
Photograph: Paresh Gandhi/Rediff.com
© Copyright 2023 PTI. All rights reserved. Republication or redistribution of PTI content, including by framing or similar means, is expressly prohibited without the prior written consent.