Lauding the contribution of non-resident Indians in the development of the country, he said, 'Mahatma Gandhi, Sardar Patel, B R Ambedkar, Jawaharlal Nehru were all NRIs. They travelled the world and helped India with new perspectives.'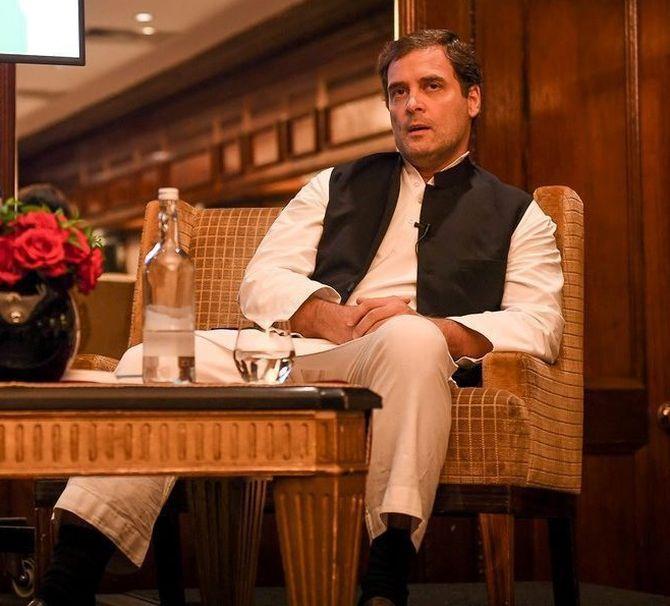 Congress president Rahul Gandhi on Saturday alleged that the judiciary and election commission were being 'torn apart' under the Bharatiya Janata Party-led National Democratic Alliance government and Prime Minister Narendra Modi was keeping mum on grave issues confronting the nation.
Addressing the Indian Overseas Congress in London, he said the prime minister insulted every Indian by saying that nothing had happened in the last 70 years.
"India shows the future to the world. The people of India made this possible, and the Congress helped them," he said.
"If the prime minister says nothing had happened before he assumed office, he is not commenting on the Congress, he is insulting every person of the country," Gandhi said.
He alleged that at present, Dalits, farmers, tribal people, minorities, the poor in India are told they will not get anything, and 'if they raise their voice, they are beaten up'.
The SC/ST Prevention of Atrocities Act has been 'destroyed, and scholarships have been discontinued', he claimed.
"Today in India, people are discriminated against on the basis of caste and religion. Marginalised are betrayed, while people like Anil Ambani benefit," he alleged.
Attacking the BJP-led government on the Rafale deal, Gandhi said that the Hindustan Aeronautics Limited had been manufacturing aircraft for the last 50 years, but the contract was given to 'someone who floated his company just 19 days before the deal'.
"Nobody will get anything. Only Ambani will get everything. This man has accrued a debt of Rs 45,000 crore," the Congress president alleged.
Gandhi has been attacking the BJP government for allegedly inking the deal at a much higher price than the one the previous United Progressive Alliance regime had negotiated to benefit 'one businessman'.
Facing allegations of getting undue benefits from the multi-billion dollar Rafale deal, Anil Ambani-led Reliance Group has sent legal notices to several Congress leaders asking them to 'cease and desist' from levelling such charges.
Reliance Group has denied the allegations relating to the deal under which France's Dassault is supplying the fighter jets and has entered into a joint venture with an Anil Ambani-led group firm to meet its offset requirement of the contract.
Ambani recently wrote to Gandhi on the deal saying his party has been 'misinformed, misdirected and misled' by 'malicious vested interests and corporate rivals' on the issue.
Gandhi said, "When the farmers of Karnataka and Telangana ask for loan waiver, PM Modi says this is not our policy. India's handful of richest businessmen have NPAs of Rs 12.5 lakh crore, but the prime minister says nothing."
He alleged that the prime minister kept quiet 'when his own party's MLA raped a woman and when Nirav Modi ran away with people's money'.
"Institutions such as the Supreme Court, Election Commission, Reserve Bank of India, which are the walls of our country, are being torn apart now," he alleged.
It was the first time that four senior-most judges of the apex court come out in public earlier this year to say they were not being allowed to work, he said.
"I do not use bad language for the prime minister. And if you have listened to the debate on the Rafale deal in Parliament, you would have seen that the PM could not answer my questions," he said.
Gandhi said China creates 50,000 jobs a day, while India creates only 450, and unemployment was a pressing issue.
"Our farmers need help. Our youth needs education, elderly people need health care. But, there is no discussion on the issues of farmers, education and health care," he said.
Lauding the contribution of non-resident Indians in the development of the country, he said, "Mahatma Gandhi, Sardar Patel, B R Ambedkar, Jawaharlal Nehru were all NRIs. They travelled the world and helped India with new perspectives."
'People support leaders like Trump, Modi because they don't have jobs'
Gandhi said that people support populist leaders like United States President Donald Trump and Prime Minister Narendra Modi because they are angry over not having jobs.
Interacting with Indian Journalists' Association in London, Gandhi said that instead of solving the problem, these leaders ride on that anger and damage the country.
"People support populist leaders like Mr Trump and Mr Modi because they are angry that they don't have a job. Instead of solving this problem these leaders ride on that anger. They damage the country by this," he said.
On Friday, Gandhi said India was facing a 'full blown crisis' of unemployment and the government was refusing to admit it.
The Congress president said there is a systematic attempt to impose one ideology on the country, the ideology coming straight from Nagpur. There are attempts to centralise power.
Gandhi again maintained that 'there is a lot of similarity between Muslim Brotherhood and RSS. They use democratic processes to capture power'.
The Muslim Brotherhood is the oldest political Islamist group in the Arab world. It is banned and declared as a terrorist organisation by the governments of several countries.
He said that 'both the organisations were formed in the 1920s, both believe in institutional capture and both were banned, particularly the RSS was banned after Mahatma Gandhi's assassination'.
On Vijay Mallaya, Gandhi said that Indian prisons are 'pretty decent' while commenting on his ongoing extradition case.
"Indian prisons are pretty decent as far as Mr Mallya is concerned," he said.
In July, Mallya appeared before the Westminster Magistrates' Court in London where both defence and prosecution presented clarifications on Barrack 12 at Arthur Road Jail in Mumbai, where Mallya is to be held post-extradition.
Judge Emma Arbuthnot asked the Indian authorities to submit within three weeks a video of the Barrack 12 of the Arthur Road Jail.
Mallya is separately fighting extradition to India on fraud and money laundering charges worth an estimated Rs 9,000 crores.
Asked whether he supported attempts to ban books, Gandhi said: "I don't believe in banning books unless there is a clear indication that it would lead to violence."
Asked about the Congress' strategy for 2019 general elections, Gandhi said 'the Opposition in our conversation is very clear that the first and most important challenge is to stop the RSS, the BJP from attacking and destroying Indian state and institutions'.
"There is absolute acceptance and unity on that point. We are not getting into any conversation that distracts us from that goal," he said.