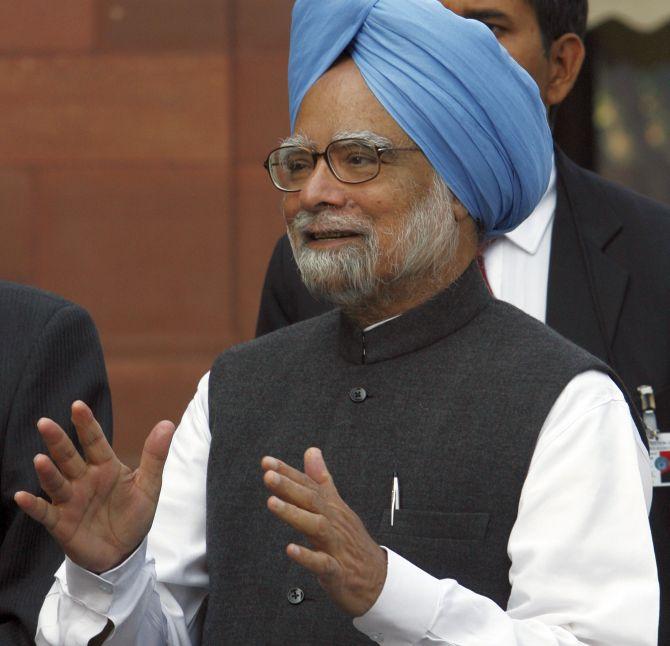 The acquittal of former telecom minister A Raja and Dravida Munnetra Kazagham's Kanimozhi and the 15 others in the 2G scam case, prompted the Congress to react with former prime minister Manmohan Singh and Kapil Siba saying the judgment spoke for itself.
The "massive propaganda" against the United Progressive Alliance on 2G spectrum was without any foundation, former prime minister Manmohan Singh said.
The judgment speaks for itself, Manmohan Singh said.
"I do not want to boast (about) anything. The court's judgment has to be respected. I am glad that the court has pronounced unambiguously. All the massive propaganda which was being done against the UPA was without any foundation. The judgment speaks for itself," Singh said.
Senior Congress leader Kapil Sibal also demanded an apology from former comptroller and auditor general Vinod Rai and the Opposition.
"I have been saying from day one that there was no loss and I have been vindicated today. In fact it is Vinod Rai who must apologise to the nation.
"It is the Opposition who must apologise to the nation," Sibal told reporters after the court acquitted all the accused.
Former CAG Rai had calculated that 2G spectrum allocation in 2008 -- under the UPA regime when Raja was the telecom minister – led to notional loss of Rs 1.76 lakh crore to the national exchequer.
"There was no case from the beginning. In fact, it was a scam of lies, there was no scam on our part. We did it in accordance with policy prescription that we had at that point in time," Sibal said.
Responding to a query on the Supreme Court judgment of February 2012 which cancelled 122 telecom licences that were allocated spectrum in 2008, Sibal said that the apex court passed the judgment in its attempt to do the best it could do in the interest of the nation, and it was a wrong decision.
"That (SC cancelling telecom licences) was also a wrong decision. The fact that the Supreme Court rendered a decision doesn't mean that is necessarily right.
"In fact, the kind of environment created by the media, the opposition, by Vinod Rai... The telecom sector is in dire state today and this is entirely because of Vinod Rai and
opposition (at that time)," Sibal said.