He was not comfortable with the bahubali politician's presence in Siwan after his release.
M I Khan reports from Patna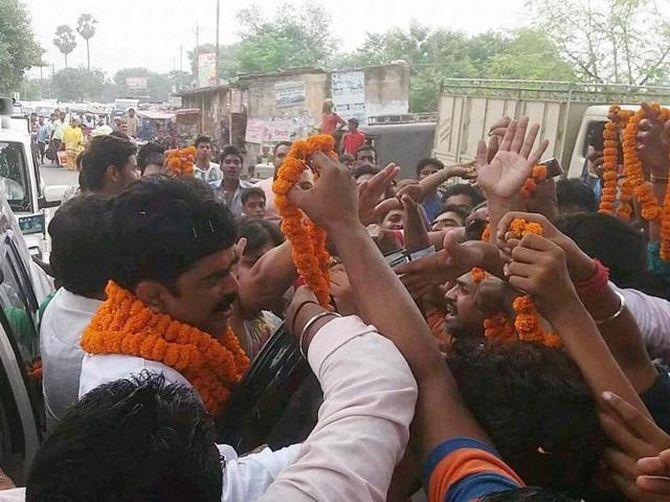 The additional district judge in Siwan, who awarded a life sentence to former Rashtriya Janata Dal MP Mohammad Shahabuddin and his three accomplices last year, in connection with the brutal murder of two brothers by pouring acid in 2004, has been transferred to a court in Patna following his request.
According to reliable sources in the Patna high court, Judge Ajay Kumar Srivastava had requested the high court to transfer him outside Siwan soon after Shahabuddin was granted bail.
Following Judge Srivastava's request, the high court transferred him to Patna. Judge Srivastava was transferred before completing his three-year tenure in a district court.
In December 2015, Judge Srivastava found Shahabuddin and three of his henchmen guilty under Sections 302 (murder), 364A (kidnapping for ransom, etc), 201 (causing disappearance of evidence of offence, or giving false information to screen offender) and 120B (criminal conspiracy) of the Indian Penal Code.
According to the prosecution, Chandrashekhar Prasad's sons were abducted from their home at Goshala road in Siwan by Rajkumar Sah, Sheikh Aslam and Arif Hussain on August 16, 2004 and were taken to Pratappur village where acid was poured on Girish and Satish, resulting in their deaths.
A third son, Rajeev Raushan, managed to escape. His brothers' bodies could not be recovered. Their mother Kalawati Devi lodged a first information report, accusing Shahabuddin's henchmen of murdering her sons.
Shahabuddin's name cropped up during the investigation and he was made an accused for hatching the conspiracy to kidnap the three brothers.
Raushan appeared in court s an eyewitness, but he was murdered by unidentified assailants on June 16, 2015.
Shahabuddin was released from Bhagalpur jail on September 10 after spending 11 years in prison. He has represented Siwan in the Lok Sabha four times -- from 1996 to 2009 -- as a member of Lalu Prasad's RJD. After his conviction he could not contest the Parliamentary elections in 2009 and 2014.
IMAGE: Former RJD MP Shahabuddin was granted bail on September 7. Photograph: PTI Photo