Crack meters installed in the damaged houses of Joshimath have registered no further widening of cracks in the last three days, but water discharge from an underground channel near JP Colony has shot up again to 150 litre per minute, a senior official said on Thursday.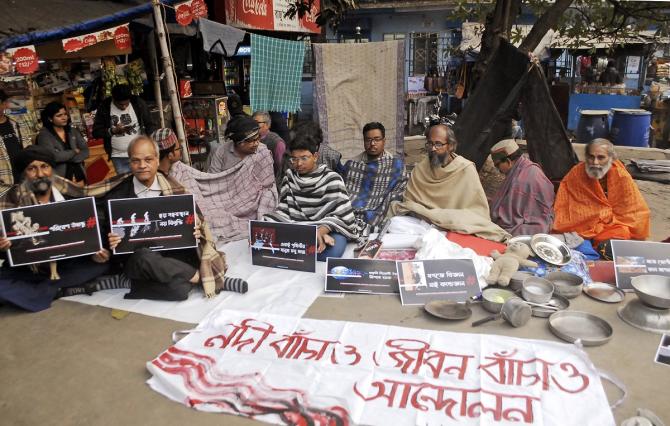 Uttarakhand minister Satpal Maharaj said an inquiry will be conducted to find out how multi-storey buildings were allowed to be constructed in Joshimath which has been sinking for at least 20 years.
Water has been constantly flowing near JP Colony in Marwari area of Joshimath after the underground channel burst on January 2.
The flow had come down to 100 LPM on Wednesday.
However, it has risen again though nominally as it was flowing at 540 LPM in the beginning, secretary, Disaster Management Ranjit Kumar Sinha told reporters here on Thursday.
But no further widening of the cracks in buildings over the past three days is a positive indication, he said.
The number of houses to develop cracks in Joshimath stands at 849 while 259 affected families have been shifted to temporary relief centres, Sinha said.
Meanwhile, Chief Minister Pushkar Singh Dhami held a meeting with senior officials to review relief work being carried out in Joshimath and said there will be no dearth of funds for disaster management measures to be taken in the town.
The displaced will be given better facilities by the state government, Dhami said and asked officials to prepare a rehabilitation plan in consultation with the affected residents.
He asked the Chamoli District Magistrate to take the suggestions of the affected people and send a report to the government at the earliest.
He asked the Urban Development Department to establish an effective drainage and sewer system in hilly towns besides carrying out an effective urban town planning in every district.
After the technical institutions studying the land subsidence problem in Joshimath submit their reports, no time should be lost in working out a strategy for the future, Dhami said.
Uttarakhand tourism minister Maharaj said Maharaj visited the affected areas in subsidence-hit Joshimath on Thursday.
"I remember when I used to come here at least 20 years ago, even then people used to say Joshimath was sinking. It will be investigated how multi storey buildings were allowed to be built here?" he told reporters.
He said the Army and the ITBP have their establishments in Joshimath and their sewage systems should be treated.
Maharaj said he will also write to the Home Minister and the Defence Minister in this regard.
He said, the people of Uttarakhand have great resilience and will collectively overcome the disaster.
"Though it is a disaster, Uttarakhand has great strength. I am confident that we will collectively tide over it under the leadership of chief minister," he said.
Chamoli DM Himanshu Khurana issued orders to demolish yet another unsafe building in Joshimath and invited suggestions from the residents on their permanent rehabilitation.
The unsafe residential house to be scientifically dismantled now is located in ward no 7 of Joshimath.
Experts had declared it unsafe after a survey recently.
The order to dismantle it was issued by the DM after taking a written consent from the house owner Dinesh Lal.
Khurana had on Wednesday issued orders to dismantle two unsafe residential houses and a PWD guest house building.
The DM who also heads a committee set up to design a rehabilitation plan sought suggestions from the affected people on their permanent rehabilitation.
It is being done to ensure that their rehabilitation is done properly in the manner they want, Khurana said.
Meanwhile, Congress MLA from Dharchula Harish Dhami sat on a daylong dharna at the sub-divisional office accusing the state government of neglecting disaster affected families of Dharchula, Munsiyari and Bangapani sub divisions of Pithoragarh district.
"We have handed over a memorandum to state government through SDM Dharchula today and have demanded that over 120 villages of all 3 sub divisions have been affected by natural disasters for years but no rehabilitation package has been announced by state government till date," Dhami said at the dharna venue.
The state government has not given any relief package to disaster affected villagers of Khotila, Dharchula Dehat and Ailagar hit by natural disasters last year, he said.
Due to neglect by the state government over 50 families are still living in relief camps being run by the district administration, he said.
"We have also requested the state government to build protection walls along the banks of main rivers Kali, Gori, Bhujgarh, Jhapuli, Ramganga, Dhauliganga and Jamuna that are sliding gradually and might pose a threat to over 40 villages," the MLA said.
© Copyright 2023 PTI. All rights reserved. Republication or redistribution of PTI content, including by framing or similar means, is expressly prohibited without the prior written consent.