Joshimath has been declared a landslide-subsidence zone and over 60 families living in uninhabitable houses in the sinking town have been evacuated to temporary relief centres, a senior official said on Sunday.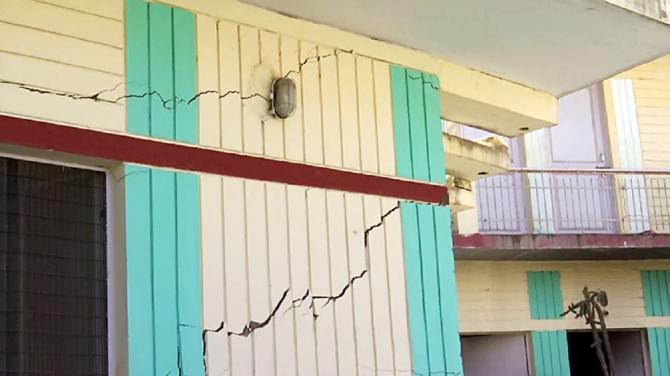 At least 90 more families have to be evacuated.
The local administration has set up relief centres at four-five places in the Himalayan town, Garhwal commissioner Sushil Kumar said.
Meanwhile, Chamoli district magistrate Himanshu Khurana went from door to door in the affected area to assess the damage and appealed to people living in houses that have developed cracks to move to the relief centres.
Joshimath has been declared a landslide-subsidence zone. More than 60 families living in uninhabitable houses in the sinking town have been evacuated to temporary relief centres, Kumar told PTI.
Considering the extent of the damage, at least 90 more families will have to be evacuated as soon as possible, he said.
Kumar, who has been camping in Joshimath since Thursday, heads a committee tasked with monitoring the situation on the ground level.
There are a total of 4,500 buildings in Joshimath and 610 of these have developed huge cracks, making them unfit for habitation, he said.
A survey is underway and the number of affected buildings could go up, he added.
Kumar said the affected area, including houses that developed cracks earlier and the ones damaged recently, forms a big arch which could be spread over 1.5 km.
Temporary relief centres have been set up at four-five safe places within Joshimath. Some more buildings, including a few hotels, a gurdwara and two inter-colleges, have been acquired to serve as makeshift shelters that can accommodate around 1,500 people, he said.
"Land subsidence has been going on slowly in Joshimath for quite some time but it has increased over the past week with huge cracks appearing in houses, fields and roads," the Garhwal commissioner said.
"The situation worsened apparently after a water channel beneath the town erupted last week," he said.
The priority at present is evacuating the affected people to safety, he said.
Kumar said long-term measures being explored to deal with the situation range from reconstruction to retrofitting.
Chamoli DM Khurana surveyed the affected area.
People were told to move out of unsafe and uninhabitable houses as arrangements for their stay have been made in hotels, homestays and other safe places, he said.
The state government will pay Rs 4,000 per month for up to six months to those who want to move to rented accommodations, he said, asking people not to risk their lives by choosing to continue living in the damaged houses.
Chief Minister Pushkar Singh Dhami, who visited the affected areas in Joshimath on Saturday, held a meeting with officials Dehradun after returning and asked them to relax norms to expedite relief operations.
He said they were asked not to get entangled in long procedural complexities and take direct clearance from him for work related to drainage treatment and sewage systems in Joshimath.
The National Remote Sensing Centre, Hyderabad and the Indian Institute of Remote Sensing, Dehradun have been asked to conduct a study of Joshimath through satellite imagery and submit a detailed report with photographs.
The Geological Survey of India has also been asked to examine the suitability of Koti Farm, Herb Institute and the Horticulture Department's land in Joshimath and in Pipalkoti's Semaldala area for rehabilitation purposes.
© Copyright 2023 PTI. All rights reserved. Republication or redistribution of PTI content, including by framing or similar means, is expressly prohibited without the prior written consent.