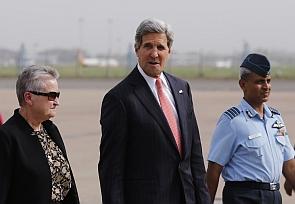 Secretary of State John Kerry arrived in New Delhi on Sunday onto participate in the fourth round of Indo-US strategic dialogue even as US announced to invest $100 million in India's burgeoning clean energy sector.
Kerry, 69, accompanied by a high-level delegation arrived in New Delhi on a three-day visit, the first one after assuming the charge of the State Department earlier this year.
He will co-chair the India-US strategic dialogue with External Affairs Minister Salman Khurshid during which key issues like bilateral trade, defence and security cooperation besides energy and higher education would be discussed.
Ahead of his visit Kerry described India as a strategic partner in South Asia with whom the US has one of the defining partnership of the 21st century.
As Kerry arrived in India, the US Agency for International Development said hat it will partner with US-based institutional investor Northern Lights Capital Group to facilitate the investment via Nereus Capital.
This investment, through the Agency's Development Credit Authority, is expected to create hundreds of additional megawatts of sustainable energy capacity and will help to advance India's clean energy industry.
"USAID will be able to dramatically leverage large scale funding to help India's transition to a low carbon economy and open-up new development opportunities for enhanced energy access," USAID Administrator Raj Shah, who is accompanying Kerry, said.
US Energy Secretary, NASA Director, US military chief for the Pacific region Admiral Samuel Locklear and top officials from the State Department and Homeland Security are part of the delegation.
During the talks, India will seek from the US information on the opening of a Taliban office in Qatar besides putting across its concerns about the H1B and L category visas that has raised concerns among the Indian industry, especially the IT sector.
The issue of market access, nuclear liability bill and American National Security Agency's Internet snooping programme are also likely to be discussed. Kerry will also co-chair India-US Higher Education dialogue. Kerry will also meet Prime Minister Manmohan Singh during his stay in New Delhi.
Picture: United States Secretary of State John Kerry (centre) walks next to US ambassador to India Nancy Powell (left) upon his arrival at the airport in New Delhi.
Photograph: Adnan Abidi/Reuters