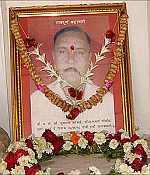 Rediff.com's Prasanna D Zore speaks to Vaishali Omble, daughter of Assistant Sub-Inspector Tukaram Omble, who lost his life while arresting Mohammad Ajmal Kasab, a day after the Pakistani terrorist was hanged to death.
This is what the Ombles are made up of.
Like her father, Vaishali too exhibited exemplary courage when she decided to be with her close friend in her hour of grief instead of celebrating the hanging of the lone Pakistani terrorist Kasab on the morning of November 21.
"I was no doubt very happy when I saw the news on television channels. But I had to be with my friend who lost her mother a couple of days ago," Vaishali told rediff.com. Vaishali's friend's emotional condition was a bit worrying and so she went to her friend's home in Mumbai along with her family.
"She had always been with us through thick and thin. It was only appropriate that I be with her when she needed me the most," Vaishali said when asked if she was trying to avoid the media on such a momentous day.
Vaishali refused to part with her friend's name or the location where she was with her for the fear that she wouldn't like media to disturb her friend's family in their time of sorrow.
Vaishali said that the family -- her sisters Vandana (married) and Bharti (working with the Mumbai's regional transport office) and mother Tarabai -- was extremely happy that Kasab was finally sent to the gallows. 
"Somewhere, we have some satisfaction now that Kasab has been hanged. It will send a stern message to those who think that India is soft on terrorists and terrorism," she said. 
"Let the whole world be now beware that India can take strong action against perpetrators of acts of terrorism on Indian soil," she said.
However, she believes that Kasab's hanging is just the beginning of India's war on terror. "The final closure will come only when the masterminds in Pakistan are brought to book," she said.
"The job is still half done," Vaishali, who is pursuing M.Ed from the Mumbai University said. She said she has no clue as to what she plans to do in the future.
"I and my family would like to thank the government for sending a terrorist to the gallows," she said. "It was a nice beginning to our day," she said about how she felt when she first saw the news on television channels.
"Though our life has never been the same after my father's martyrdom, Kasab's hanging was a moment that brought some feeling of satisfaction for all of us," she said. "That is some justice for people like us and all those who died because of the terror attack on Mumbai," Vaishali added.
However, Vaishali reiterated that her father's absence has left a huge void in the life of the Omble family. "Nothing can ever make up for our father's loss. We will have to live with that until our deaths," Vaishali said.
When asked if she has any message for the youth of this nation, Vaishali said it is time for the youth to toughen themselves for such acts of terror on Indian soil.
"India's youth and people should stop depending only on the police and the army for their security and safety. They should actively engage in learning self-defence techniques for their own protection," she said.
"It was something that my father always used to tell us," she said.