'Such a great institution like the JNU should not be remembered for these controversies.'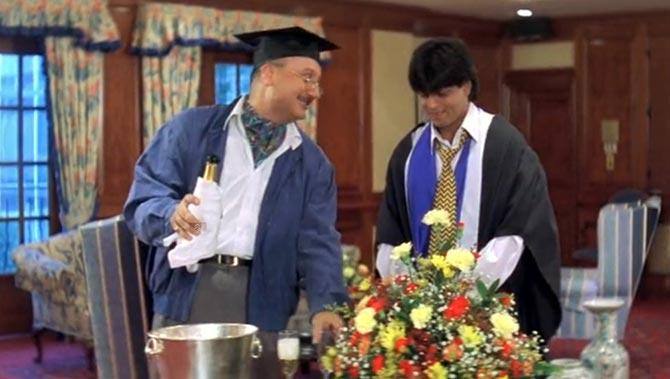 Anupam Kher visited the Jawaharlal Nehru University to screen his film, Buddha In A Traffic Jam.
"My director Vivek Agnihotri and I took the film to JNU because the film shows exactly the situation we see in JNU," says Kher.
"We felt it has a relevance and a resonance that the students of JNU would appreciate. And we were right. Around 4,000 boys and girls saw the film."
More than the film, his speech before the screening triggered something of a controversy.
"I wanted to convey to the students that such a great institution like JNU should not be remembered for these controversies," the actor, who turned 60 on March 7, said.
"It was important for me to remind the students that slogans like 'Bharat Mata Ki Jai', 'Jai Hind,' 'Hindustan Zindabad' and 'Vande Mataram' were not just slogans, but what the institute stands for."
"To have it (JNU) reduced to a hotbed of politics is a very sad thing to happen," he added. "It was important for me to remind them that the freedom they enjoy is granted to them by Indian democracy and by the Constitution."
Kher seemed reluctant to speak about Kanhaiya Kumar, who was arrested on charges of sedition last month.
"Too much attention is being given to this one student. He needs to focus on his education and not on politics."
"A boy who is accused of anti-national activities, who was put behind bars and is out on bail under strictures by the honourable judge," Kher felt, "should not be speaking so much and so loosely. Certain sections of the media are portraying him as a hero."
On Hyderabad MP Asaduddin Owaisi declaring that he would not say 'Bharat Mata Ki Jai', Kher said, "By his refusal he wants us to give him attention and we're playing into his hands. I am sure the kind of freedom he is enjoying would not be granted to him in any other country, including Muslim countries."
"I am sure he has no problem with saying 'Bharat Ki Jai'. If he wants, he (can) change 'Mata' to 'Ammi', he is welcome to do so. A mother by another name is just as sacred."
IMAGE: Anupam Kher and Shah Rukh Khan in Dilwale Dulhaniya Le Jayenge.