Terrorists on Friday shot dead two National Conference workers and injured an office bearer by firing at them from close range in Karfali Mohalla area of Srinagar, three days ahead of polling for first phase of elections for urban local bodies in Kashmir, police said.
The gunmen fired at the trio at Karfali Mohalla, resulting in injuries to all three, a police official said.
The injured persons were rushed to nearby SMHS Hospital but two of them succumbed, the official said.
The deceased have been identified as Mushtaq Ahmad Wani and Nazir Ahmad Bhat.
While both were affiliated to the National Conference, Bhat was working as public relations officer of MLA Habbakadal.
The injured persons has been identified as Shakeel Ahmad Ganaie, a Halqa president for National Conference.
Security forces have launched an operation to track down militants, the official said.
The killings come just three days ahead of polling for first phase of elections to urban local bodies in the state.
The National Conference and the People's Democratic Party have boycotted the polls on the grounds that state's special status under Article 35-A of the Constitution is under threat due to the legal challenge to this provision in the Supreme Court.
90 pc people in J&K keen to participate in panchayat polls: Rajnath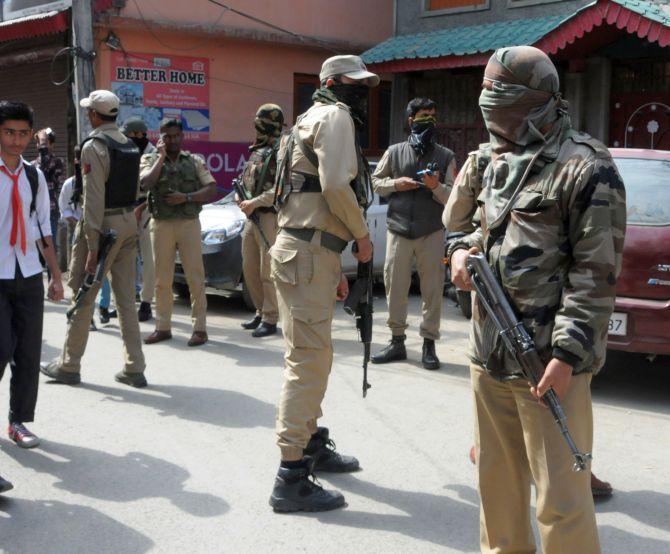 Blaming Pakistan for the unrest in Jammu and Kashmir, Home Minister Rajnath Singh claimed that 90 per cent people in the state would like to participate the panchayat and urban local bodies polls scheduled this month.
Singh said approximately 6,000 terror incidents had taken place in Jammu and Kashmir in 1995 and the number has come down to about 360 in 2017.
"I do agree that the situation in Jammu and Kashmir should improve. But, the problem that we face is mostly because of Pakistan.
"We have always tried to improve relations with Pakistan. But the country will not mend its ways. It continues to sponsor terrorism in Jammu and Kashmir," he said speaking at the HT Leadership Summit here.
Referring to the forthcoming elections to the panchayat and urban local bodies in Jammu and Kashmir, the home minister said 90 per cent people of the state would like to get involve in the poll process, which the current government has started after a long break.
When asked about the several BJP candidates getting elected to the local bodies unopposed, Singh said in the recently held panchayat elections in West Bengal, 43 per cent candidates won uncontested and such things are not uncommon.
Talking about the now-snapped BJP-PDP alliance, he said both the parties had joined hands, honouring the mandate of the last state assembly elections, but the "experiment did not succeed".
Photographs: Umar Ganie/Rediff.com