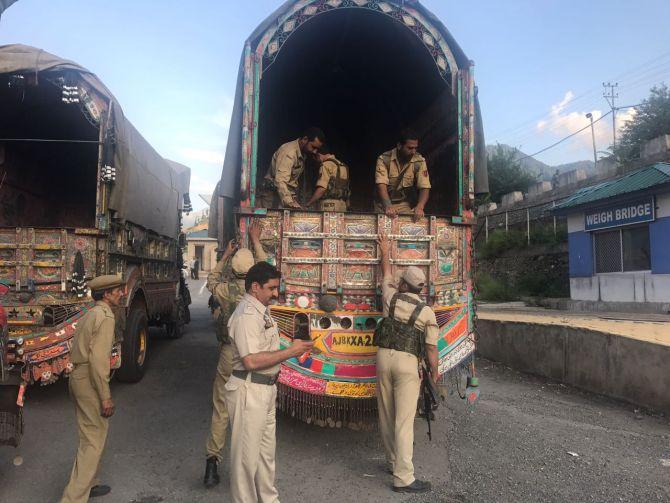 In one of the biggest drug hauls in Kashmir, police on Friday seized over 66 kg of heroin and brown sugar, worth over Rs 300 crore, from a truck coming from Pakistan-occupied Kashmir at the trade facilitation centre in the town of Uri on the Line of Control, police said.
The quantity of the consignment has been revised to 66.5 kg, worth more than Rs 300 crore, after initial estimates had pegged it at 40 kg, valued at Rs 200 crore.
"So far, around 40 kilograms of narcotics have been recovered from a truck coming from PoK for the cross-LoC trade at Salamabad," Senior Superintendent of Police, Baramulla, Imtiyaz Hussain had earlier said.
Hussain said the narcotics were hidden in wooden boxes in the truck and were found during checking of the vehicle.
"We are carrying out thorough searches of the vehicles to ensure that no narcotic substance is slipped through," he said.
The officer said most of the narcotic substance seized seems to be high-quality heroin while some quantity of brown sugar forms the rest of the contraband consignment.
Given that one kilo of heroin goes for anything around Rs 5 crore, the consignment was expected to fetch over Rs 300 crore if it had reached the market.
Police have detained the vehicle's driver for questioning. He is a resident of Chakoti in PoK.
Investigations have been set in motion to identify the people involved in this drug trade.
In February, 2015, the cross-Line of Control trade was suspended for several days after a Pakistani driver was arrested following recovery of 300 packets of narcotics from his vehicle at Uri.
Photograph: Umar Ganie for Rediff.com