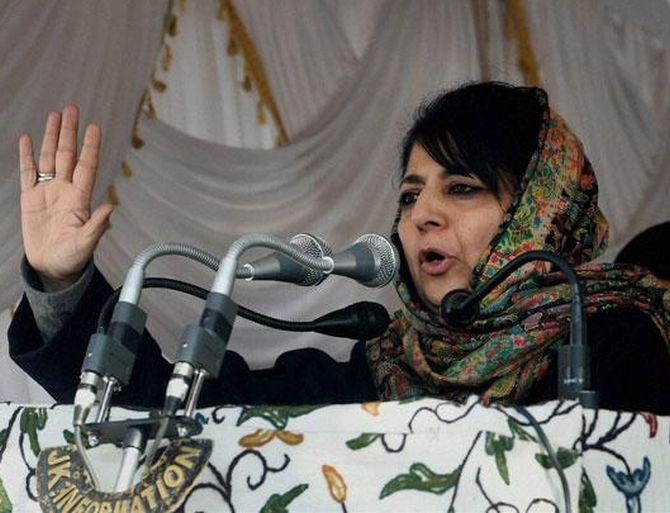 Jammu and Kashmir has suffered losses due to the Indus Water Treaty with Pakistan and should be compensated by the Centre, Chief Minister Mehbooba Mufti said on Wednesday, two days after India decided to 'exploit to the maximum' the water of Pak-controlled rivers.
"Today, many things are being talked about. There is a talk of IWT... We are facing losses on account of IWT. We should get compensation and we cannot ask Pakistan for that but our own country. Whatever we get, be it our power projects or anything, we should get," she said at a function in Srinagar.
Under the Treaty, which was signed by former Prime Minister Jawaharlal Nehru and Pakistan President Ayub Khan in September 1960, control of three rivers flowing through Jammu and Kashmir -- Jhelum, Indus and Chenab -- was given to Pakistan while India was given control over Beas, Ravi and Sutlej, all passing through Punjab.
Because of the treaty, no big dams or power projects can be built by India on Jhelum, Indus or Chenab.
"There have been so many wars, but IWT wasn't touched because both the countries benefited from our resources, even as J and K suffered losses," Mehbooba said while speaking at the launch of PM Ujwala Yojana.

The prime minister went to Pakistan as an uninvited guest. Why did he need to go there? He went there for us (people of J and K). He understood that till both the countries do not live together, the people of J&K will continue to face miseries.

Her remarks came two days after the prime minister asserted that 'blood and water cannot flow together' and decided that India will 'exploit to the maximum' the water of Pakistan-controlled rivers, including Jhelum.
Held amidst heightened tension between the India and Pakistan, the meeting also decided to set up an inter-ministerial task forces to go into the details and working of the treaty with a 'sense of urgency', senior government sources said.
She said her father and former chief minister Mufti Mohammad Sayeed had wanted joint use of resources by both the countries for friendship between them.
"Mufti sahab always had this thinking that we should both do such things so that we can use our resources jointly for our as well as their benefit so that there is friendship instead of animosity. But unfortunately, even as there were many attempts, it has not happened so far," she said.
The chief minister said she had hoped Prime Minister Narendra Modi would visit Pakistan for the South Asian Association for Regional Cooperation summit in November but noted that he cannot go under the circumstances following Uri attack.
"SAARC was to happen in Pakistan and I had hopes that our PM will get an opportunity to go there but how will he go? Under what circumstances will he go there?" she said.
India, along with Bangladesh, Bhutan and Afghanistan, have decided not to attend the eight-nation Summit because of unabated cross-border terrorism from Pakistan, the venue.
The J&K chief minister advocated joint use of resources of all SAARC countries.
"SAARC countries have so many resources -- Nepal has its own, Bangladesh and Pakistan have their own, Afghanistan and our country have their own and then Bhutan has its own. We could have used these resources together but it has not happened unfortunately," Mehbooba said.
Maintaining that war is never an option to resolve the issues, Mehbooba pitched for amicable relations between India and Pakistan to fight the poverty and economic deprivation plaguing the region while underlining the need of a bilateral dialogue to resolve the issues.
"The two nuclear-armed neighbours must cooperate in the fields of social development, including eradication of poverty and with their growing economies and energy needs, and the need for newer, more diverse markets and trading opportunities, the future of the troubled region has to be defined by common economic interests instead of hostilities," she said.
The chief minister said instead of fighting wars with each other, India and Pakistan should join hands to eradicate poverty and to address social problems plaguing the region.
"The prime minister went to Pakistan as an uninvited guest. Why did he need to go there? He went there for us (people of J and K). He understood that till both the countries do not live together, the people of J&K will continue to face miseries.
"He walked a step but unfortunately there was an attack in Pathankot. But immediately afterwards, the statement of (National Security Advisor) Ajit Doval came and he did not blame anyone, which was good. Instead, a team from Pakistan came and they were shown the evidence. Pakistan only registered an FIR against one person but unfortunately nothing happened afterwards," she said.
Mehbooba said Sayeed had joined hands with the Bharatiya Janata Party because he wanted peace in J&K and friendship between the two countries.
"He tried his best, but somehwere Pakistan has to think about it," she said.
The chief minister said the recommendations made by the Prime Minister's Working Groups offer resolutions to every problem in all the three regions of Jammu and Kashmir, including talks with Pakistan and return of power projects.
"They offer solutions on what to do in Jammu or Ladakh or in Kashmir or taking forward the dialogue process or on power projects or AFSPA (Armed Forces (Special Powers) Act), but unfortunately since the working groups were formed in 2007, (even as) their reports came, till 2014 the UPA (United Progressive Alliance) government in Delhi did nothing," she lamented.
Mehbooba said violence has no place in modern societies.
"Those societies who lionise violence as a means to end their problems are doomed. We should look at places around the world where a saga of death and destruction has unfolded and is consuming anybody and everybody," she said.
Apparently referring to Hizbul Mujahideen commander Burhan Wani, whose killing in an encounter on July 8 has led to the current unrest in Kashmir, the chief minister said, "Today's heroes are tomorrow's dangerous men. They talk about militants."
"I want to say that the gun has no eyes and gun has no respect. If today, you call someone, who has picked a gun, a hero, you will tomorrow think of him as dangerous. Osama is an example. You see what gun has done in the whole world," she said, adding, "When one gun comes, then come another and then another."
Mehbooba said in the last two-and-a-half months in Pakistan, more than 200 lawyers, children, women and people have been killed in militant attacks, but Muslims were safest in India.
"I want to tell you that if Muslims are safe anywhere in the world, it is here in this country," she said.
The prime minister told BJP workers in Kerala a few days ago that Deen Dayal Upadhaya has said that Muslims are not a commodity and should be given respect, Mehbooba said, adding the BJP ideologue had also said that Muslims are a part of this country and they should be owned.
"This, unfortunately, has not happened till yet. They (Muslims) have been thought of just a vote bank in our country. If that would not have been the case, the Muslims would have been educated and we should not have been dependent on so many madrassas," she said.
Mehbooba added, "So, I think when the PM says such things to his partymen, then I do not think the Muslims of our country need to be afraid of anything. Yes, some (leaders) give some statements, but we should trust that he (PM) is saying it from his heart."