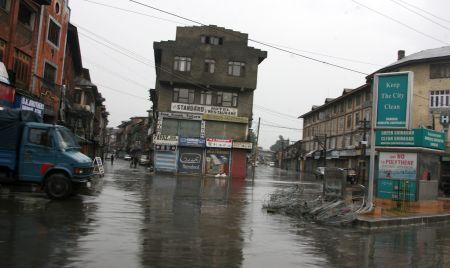 Jammu and Kashmir government on Thursday ordered immediate replacement of the paramilitary Central Reserve Police Force personnel with state armed police in the Gagran camp of curfew-hit Shopian district.
This decision follows days of protests against the killing of four youth in a firing incident at Gagran on Saturday last, hours before the high-profile Zubin Mehta concert in Srinagar's famous Shalimar garden.
The CRPF personnel of the camp again fired at a protesting mob on Wednesday afternoon killing a 25- year old youth and wounding eight others.
The locals of Shopian had been demanding the shifting of the camp from the area. The decision to replace CRPF troopers with Jammu and Kashmir armed police was taken at a cabinet meeting on Thursday evening chaired by Chief Minister Omar Abdullah.
An official statement said the cabinet expressed 'grave concern over the recent incidents of violence in Shopian'.
"It also took stock of the investigation by the police into the incident of firing on September 7 at Gagran, Shopian, and noted with dismay that there is no clarity on the facts of the case even after five days of the incident," an official statement said.
"The cabinet directed the police authorities to determine the facts of the case, including the identity of the so far un-identified deceased person, within the next 48 hours. A judicial enquiry, to be conducted by a sitting judge of the high court, may be ordered, thereafter, in case the facts are not established."
Meanwhile curfew continued in Shopian town and adjoining districts of Pulwama and Kulgam on Thursday. However, despite strict curfew restrictions hundreds of villagers braving rains took to streets and staged protests at several places in Shopian, Pulwama and Kulgam districts.
A 17-year old teenager was injured in the firing by the security forces during a protest at Redwani area of south Kashmir's Anantnag district.
Protests were also held in state capital Srinagar and other towns.
Hurriyat leader Mirwaiz Moulvi Umar Farooq, who was placed under house arrest on Thursday morning, was not allowed to address a press conference at his residence.
He has called for post Friday prayer protests against Shopian killings while the hard-line separatist leader Syed Ali Shah Geelani has called for two-day shutdown beginning Saturday.
Image: Curfew continues in Shopian town.
Photograph: Umar Ganie