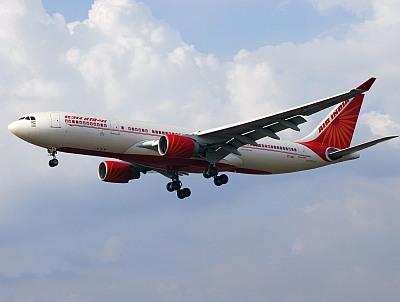 As Kashmir valley remains under flood water, Air India has decided to ferry free of cost tourists trapped in Srinagar while Gujarat and Bihar governments are sending 75,000 food and dry food packets for affected people.
Air India's gesture was announced after a meeting of the National Crisis Management Committee, chaired by Cabinet Secretary Ajit Seth, in New Delhi on Tuesday.

"Air India has kept two aircraft ready to join the humanitarian efforts in Jammu and Kashmir, while Pawan Hans and private companies like Global Vectra and Himalayan Heli are working alongside the defence forces," Civil Aviation Minister P Ashok Gajapathi Raju said earlier.
The two wide-body, twin-aisle Airbus A-330s, with a capacity of 220 seats, are likely to fly to Srinagar from here medicines, doctors and other relief materials on Wednesday, airline sources later said.
These two aircraft would operate in addition to the two other scheduled daily flights to Srinagar.
Air India CMD Rohit Nandan said the two special planes have been kept on stand-by and "we are ready to carry passengers or relief materials provided by the government or any NGO free of charge".
A home ministry statement said the supply of food and water is being enhanced with the dispatch of 1,25,000 packets of biscuits, 1,00,000 litres of water, 150 tonnes of ready-to-eat (RTE) food from Hyderabad.
"35,000 RTE food packets being sent by DRDO, government of Gujarat has organised 50,000 packets of food and government of Bihar 25,000 packets of dry food," it said.
The NCMC reviewed the situation in Jammu and Kashmir arising on account of floods.
Secretary (Planning), Jammu and Kashmir, briefed the NCMC about the ground situation and further support required.

Availability of boats is being augmented further with inflatable boats and fibre glass boats with out-board motors. Over 250 boats have already been deployed.
Air asset support is being up-scaled and over 30 aircraft and 31 helicopters have been made available.

Heavy duty submersible pumps are being flown in to take out water once the river level starts coming down.

The statement said three tonnes of milk in tetra-pack are being rushed, in addition to milk powder.
A total of 6,000 solar lanterns are being mobilised in view of the disruption in power supply in the KashmirValley.