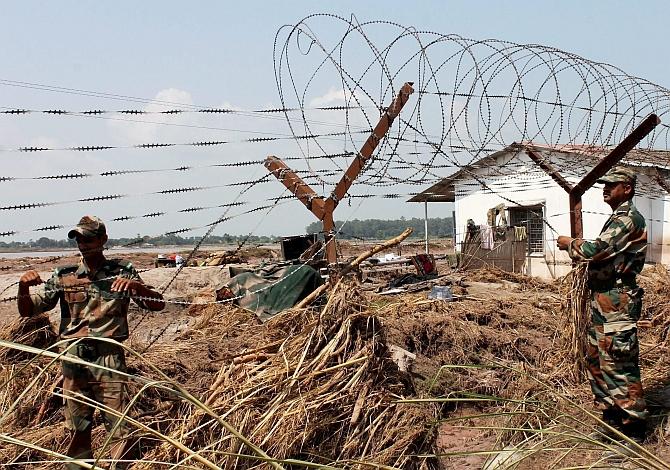 Army men repair fence along the border damaged by floods in Jammu and Kashmir. Photograph: PTI

When calamity strikes, it does not discriminate. This was on ample display when floods ravaged Kashmir.
Along with civilian population, security forces deployed in Srinagar from various parts of the country were also hit badly. They lost their belongings and their weapons were damaged or left useless after water entered their camps across the Kashmir Valley.
Hundreds of AK rifles, INSAS rifles and SLR rifles, along with their ammunition, are still submerged at various places across the Kashmir Valley, so are bombs, hand grenades etc.
Some reports said 26 AK rifles from an army camps have been washed away in the floods. In the area of Gogji Bagh in uptown Srinagar, one of the worst hit parts of the Valley, about 400 personnel of a central paramilitary force had to leave their camp after gushing waters engulfed it last Sunday night.
"We got orders to leave everything and save our lives," said one of them, explaining how weapons remained in the submerged building complex.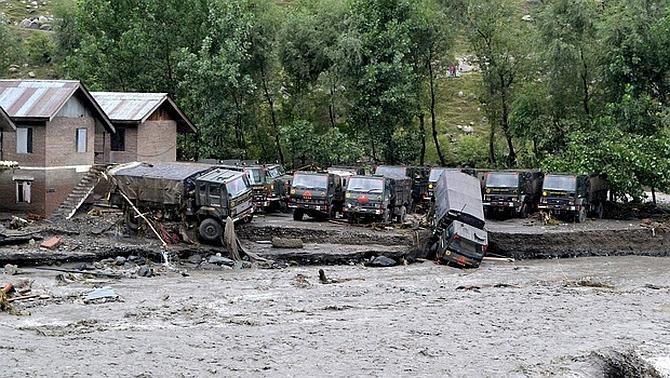 A view of army vehicles damaged by floods at Bonyar in Baramulla. Photograph: PTI
With water level receding somewhat, they are now make rounds of their complex to locate the weapons.
"Rifles can be made reusable again by oiling and servicing as also the ammunition. However, bombs and hand grenades would be of no use now," said another security man on condition of anonymity as they are not authorised to speak to media.
Similar was the fate of army camps in other places in the Valley. However, as they come to terms with what happened, their colleagues work almost round-the-clock to save marooned civilians and deliver relief material to those who refuse to come out of their submerged houses for fear of theft and looting.
"We start our operations to help the marooned people at 4 am every day and halt at midnight. Between midnight and 4 am, the boats are serviced," said Subedar Honorary Lt S P Singh of 103 Engineers Regiment, which is based in Jalandhar and was rushed to Srinagar five ago back to help in rescue and relief operations.
He, along with his colleagues Naik Nachitra Singh, Naik V D Bhonsle and Naik O P Patel, make rounds of various colonies of Rajbagh, Jawahar Nagar and Nowgam, in boats to ferry the marooned people as well as those evacuees who want to visit their homes.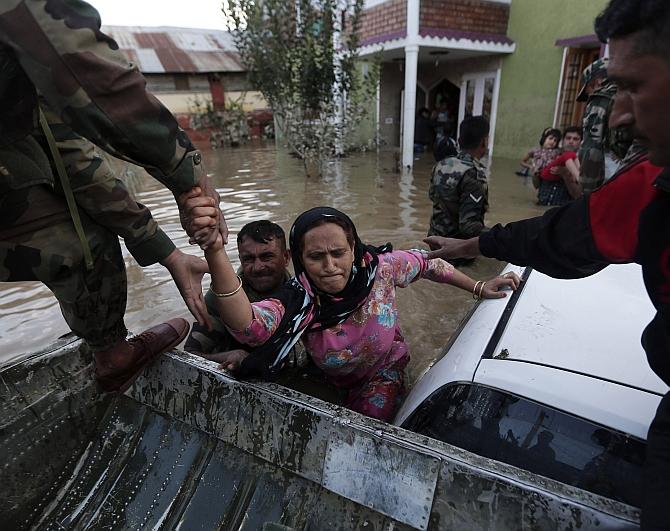 Indian army soldiers rescue a Kashmiri woman from her flooded house in Srinagar Photograph: Adnan Abidi/Reuters
"Our priority is to save children, women and unwell people," he says, while estimating that their regiment must have rescued at least 10,000 people so far.
Major Ashish Sharma, leading their operations, says about 250-300 people are rescued every day by them. Besides rescue, they are also engaged in delivering food, medicines and other essentials to people who are marooned but do not want to leave their houses.
Indian Air Force, on its part, has pressed into service 35 aircraft and equal number of helicopters to bring in relief supplies and evacuate people from the valley. These include heavy lift five C-130J and three C-17 aircraft, according to an IAF spokesman.
Relief material is brought from various places including Delhi and Chandigarh, and stranded people are taken to places where arrangements are made for their onward journey to their destinations, the spokesman said.
He said while initially the thrust was on rescuing people from marooned areas, now it has shifted to providing relief material.