With the threat of disease outbreak lurking in flood-ravaged Jammu and Kashmir, efforts have been initiated on a war-footing to provide medical staff and medicines even as rescue operations were slightly hampered on Sunday due to return of rains in the Valley.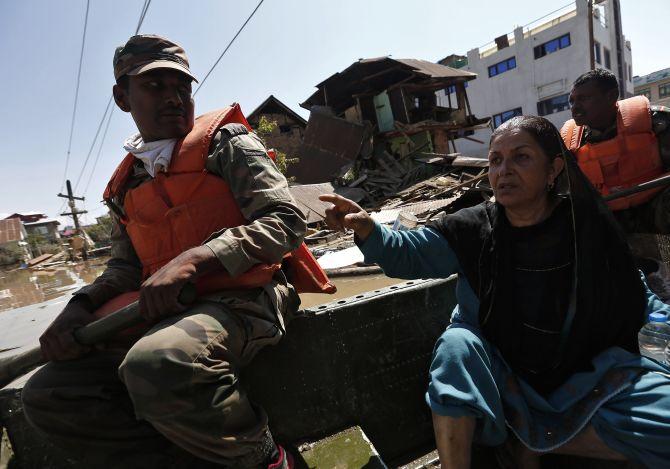 A flood victim guides Indian army soldiers as they search for stranded victims in Srinagar. Photograph: Adnan Abidi/Reuters
Armed forces and National Disaster Relief Force have rescued over two lakh trapped people as the operations entered the 13th day. Over one lakh people are still marooned after the worst floods in the state in a century unleashed a trail of death and destruction, claiming at least 250 lives.
Union Health Minister Harsh Vardhan took a detailed review of the health-related relief measures at a meeting with Chief Minister Omar Abdullah and senior officials and said all assistance will be provided to the state authorities to tackle any possible epidemic.
Though the flood waters have receded, the filth that has accumulated across the Valley, including carcasses of animals, along with lack of clean drinking water posed a serious
challenge to health authorities which have issued advisories, rushed doctors, paramedics and medicines and were carrying out mass immunisation against measles. The Centre has also been sounded to dispatch more assistance.
A local asks for water from a rescue boat at a flooded area in Srinagar. Photograph: Adnan Abidi/Reuters
Mild rainfall occurred in many parts of the Valley Sunday morning, stalling air operations for a couple of hours. As it struggled to reach all the stranded people, the IAF helicopters have also encountered problems of stone pelting in some areas while rescuing and airdropping relief material.
One helicopter was hit by a stone, prompting the force to change its strategy after which choppers maintained a safe distance from the ground. "We understand that people are angry. Even in a family, sometimes children get angry. But we are there to help out," Air Vice Marshal Upkarjit Singh said.
Two battalions of armed police have also been airlifted from Jammu to KashmirValley for maintaining law and order. Police department has restored its communication system in flood affected areas of Srinagar city.
The CM said that 60 per cent power supply in Kashmir division, 85 per cent in Jammu region has been restored. He also directed concerned departments to double the ration supply to the Valley.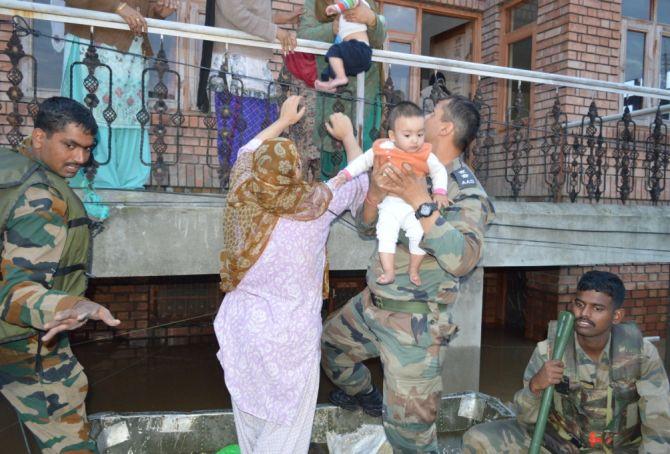 An army personnel lends an helping hand by carrying a baby in Srinagar.
Private telecom operator Aircel, which has 2.1 million customers in Jammu and Kashmir region, said it has restored its 2G services in most part of the Valley.
With the state administration slowly finding its feet, Chief Secretary M I Khanday has asked government employees to report to duty as soon as possible and help restore services. The message was read out on Radio Kashmir with the anchor saying "if you don't pay heed to this appeal, please listen to your conscience".
The devastating floods in Jammu and Kashmir have caused an immediate loss of Rs 5,400-5,700 crore to the state's economy, with heavy damage to trade, hotels, restaurants, horticulture and handicraft, according to initial estimates of industry body Assocham. The state was staring at massive reconstruction efforts, starting with steps to prevent health emergencies that usually accompany such calamities. Thirteen tonnes of water purifying tablets and six water filtration plants with a capacity to filter 1.2 lakh bottles per day have already reached Srinagar, an official said.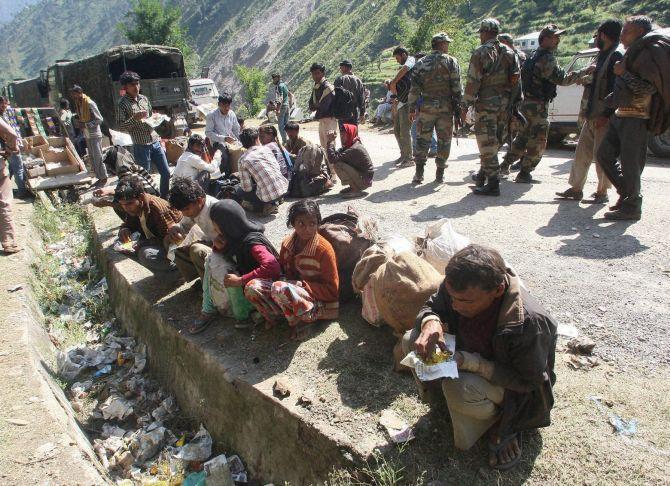 J-K flood affected laborers being fed by the Army near Ramban in Jammu and. Photograph: PTI photo
"Our focus is on provision of medicines and water-purifying medicines like chlorine and lakhs of chlorine tablets have been distributed. We have asked municipalities to activate the sanitation system. Our primary concern is rescue and provision of food, prevention of diseases and epidemics is our priority," Saleem-ur Rehman, Director, Health Services, said.
With civic bodies almost defunct over the past two weeks due to the deluge, people of flood-hit Kashmir have started burning heaps of garbage gathered in many parts of the Valley. "We do not know how long it will take the government and other concerned agencies to start getting into action. There is a strong possibility of epidemic outbreak even in areas not affected by floods due to accumulation of the garbage," Bashir Ahmad Khan, a resident of Baghat, said.
Officials said suction pumps and other engineering equipment from Vishakhapatnam have also reached the flood affected area for. Twelve sewage pumps from Delhi have also been dispatched to the Valley. Also, 30 generator sets have been sent to Srinagar to provide continuous power supply in relief camps and field hospitals
Besides these, as many as 8,200 blankets and 1,119 tents have been provided to the flood victims. 80 medical teams of the Armed Forces Medical Services are already operating in full swing.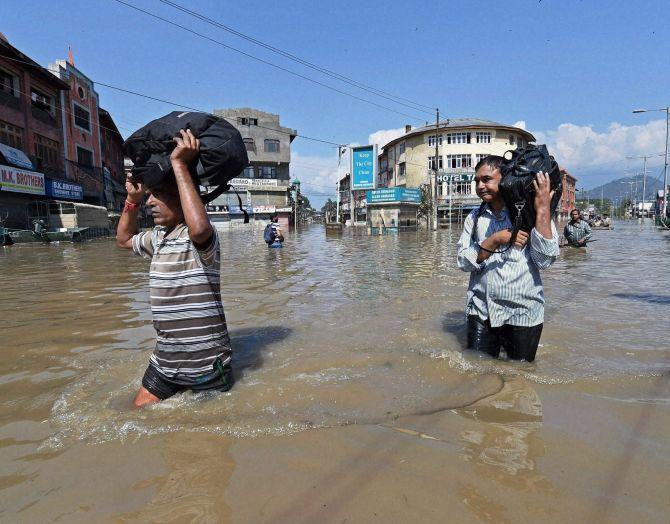 Locals wade through water to reach higher ground in Srinagar. Photograph: PTI photo
Four field hospitals have been established in Avantipur, Pattan, Anantnag and Old Airfield and they have treated more than 22,500 patients. About 10 tonnes of medicines and other health care materials, including mobile oxygen generation plant, have reached Srinagar from Delhi.
More relief materials, including blankets and tents, water bottles from Indian Railway Catering and Tourism Corporation and food packets, are being airlifted from Hyderabad, Ahmedabad, Baroda and Amritsar.
Eighty six transport aircraft and helicopters of Indian Air Force and Army Aviation Corps are continuing rescue and relief operations. Army has deployed around 30,000 troops for rescue and relief operations, of which 21,000 troops are deployed in Srinagar region and 9,000 troops in Jammu region.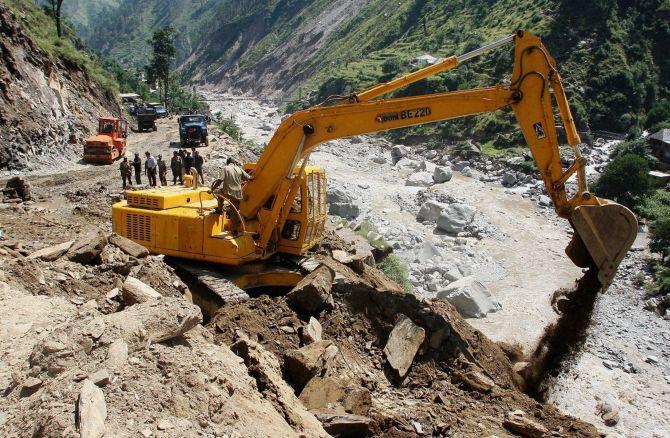 Army officials clear the national highway to facilitate movement of essential commodities to the markets. Photograph: PTI photo
Armed Forces personnel are distributing water bottles and food packets on a large scale, an official said.
Till now, more than 4,00,000 litres of water, 1,31,500 food packets and over 800 tonnes of cooked food have been airdropped and distributed in the flood-affected areas.
A total of 224 boats of army and 148 NDRF's inflatable boats have also been put into service. To restore road connectivity, five task forces of Border Roads Organisation, which include 5700 personnel, have been deployed in Srinagar, Rajouri and Akhnoor, he said. They have restored the road connectivity from Batote–Kishtwar, Kishtwar-Anantnag and Jammu-Poonch. On the Jammu–Srinagar highway, BRO personnel have cleared the road upto 172 km, he said.
-- With inputs from Mukhtar Ahmad