With floods rendering the Jammu-Srinagar National Highway inoperational for 12 consecutive days on Monday, Valley residents are facing an acute shortage of essential commodities even as people in some areas of north and south Kashmir accused the administration of concentrating only on Srinagar city.
The 300-kilometre long Jammu-Srinagar National Highway is considered the lifeline of Kashmir and is used to bring in essential commodities to the Valley but the closure has cut off transportation of goods.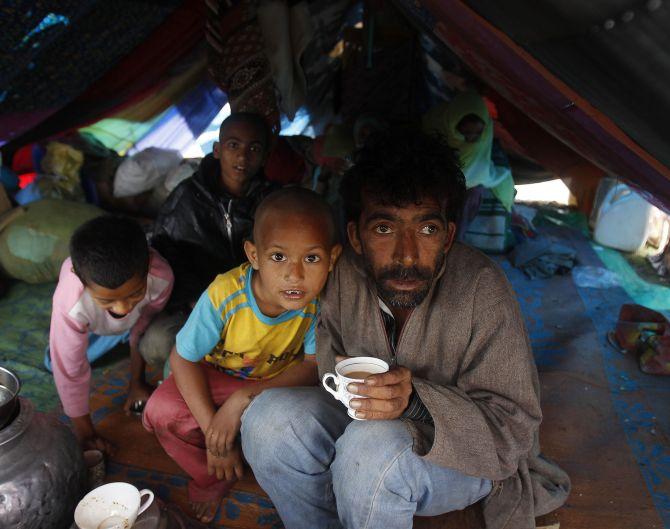 A flood victim sits inside a temporary shelter on a flyover with his family as it rains in Srinagar. Photograph: Danish Ismail/Reuters
At a time when the Centre and the state government are trying their best to provide relief to the flood-hit residents of the city, people living in other districts of the state allege that they have been totally neglected. "There are no fresh vegetables available in the market, the government rations depots are out of ration and now our cooking gas cylinders too are running empty," Parvez Ahmed, a resident of North Kashmir's Sopore town said.
Ahmed said though the level of water in Jhelum breached the danger mark, it did not cause much damage to their area as compared to Srinagar. However, residents of the apple-rich town were running out of ration and other essential commodities.
"So far nobody has shown any serious concern for us, it seems that there is complete chaos in the state. There are no vegetables available in the town; people are running out of cooking gas cylinders.There has been no supply of fresh milk, potable water too has been in scarcity," Ahmed said.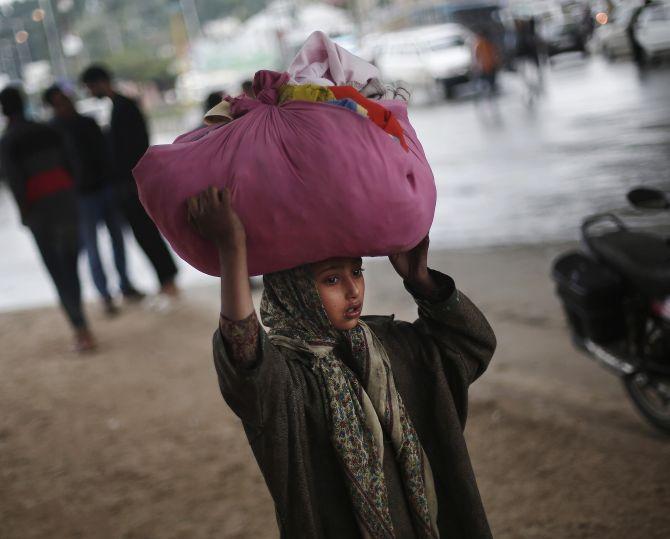 A girl displaced by heavy floods carries her belongings as she arrives at a free medical camp in Srinagar. Photograph: Adnan Abidi/Reuters
Residents of various villages of south Kashmir, who were the first to suffer the brunt of September 7 floods in Kashmir Valley, say they were being ignored by relief agencies.
"We have been left to the mercy of the almighty as not much is being done to help us. Many of our homes have collapsed and many people are either missing or injured but nobody has so far come to help us," said Bashir Ahmed a resident of south Kashmir's Anantnag district, who somehow reached the medical camp being run by the army to get his ailing wife treated.
Ahmed alleged that most of the hospitals in South Kashmir were defunct and there was an acute shortage of life saving medicines and other essential commodities in the area.
The Jammu and Kashmir government has said that 56 villages including 18 colonies were the worst affected by last week's flood in Anantnag district of South Kashmir.