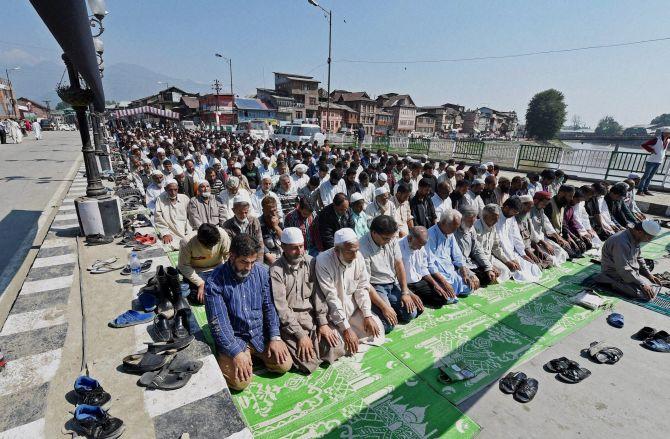 People offer funeral prayers for those killed in the Jammu and Kashmir flood devastation at Budshah Bridge in Srinagar. Photograph: PTI photo
With mosques inundated by flood waters, hundreds of people offered Friday prayers along with "funeral prayers in absentia" for those killed in the natural calamity.
After the congregational prayers, people offered special prayers and also offered "gaybana nimaz-e-jinaza" (funeral prayers in absentia) for those killed in the floods.
One such gathering was witnessed on the Budshah bridge near Maisuma, where the faithful from Maisuma, Gaw Kadal, Koker Bazar and adjoining areas offered the prayers.
The residents said the mosque in Maisuma was still submerged even as the authorities were using a number of dewatering pumps in the area. "There is water still inside the mosque and the roads are also blocked. So, we offered the prayers on the bridge," a local, Naseer Ahmad, said.
Another local, Mehrajuddin Wani, said he did not remember any instance of offering the namaz in such conditions. "We offer namaz on roads usually on the Fridays as many people come around, but offering the prayers on a bridge when the mosques are under water is a first for me," he said.
Similar reports of people offering prayers outside the mosques were received from various other localities of the city.
© Copyright 2021 PTI. All rights reserved. Republication or redistribution of PTI content, including by framing or similar means, is expressly prohibited without the prior written consent.