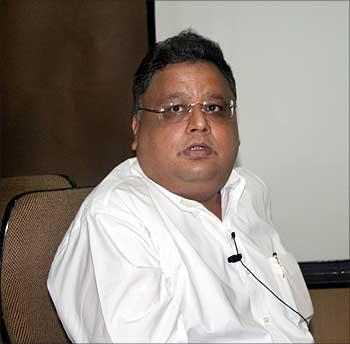 Ace investor Rakesh Jhunjhunwala on Thursday picked up one crore shares of Edelweiss Financial Services for an estimated Rs 55 crore through the open market route.
Jhunjhunwala purchased the shares (amounting to 1.3 per cent stake) of the financial services firm for an average price of Rs 55 apiece, according to the bulk deal information with the BSE.
In separate transactions, Edelweiss Financial Services shareholders GPC Mauritius sold a total of 2.62 crore shares of the firm for about Rs 148 crore.
Individually, GPC Mauritius I LLC offloaded 1.18 crore shares of Edelweiss Financial Services, while GPC Mauritius III LLC sold 1.44 crore scrips of the company.
As quarter ending March 2014, GPC Mauritius III LLC and GPC Mauritius I LLC held 2.79 per cent and 2.28 per cent stake in Edelweiss Financial Services respectively.
Shares of Edelweiss Financial Services rose 10 per cent, to close at Rs 59.95 apeice on the BSE.