With the Jharkhand Mukti Morcha-Congress-Rashtriya Janata Dal alliance set to form the government in Jharkhand, several opposition parties on Monday linked the mandate to the Citizenship (Amendment) Act and the National Register of Citizens, saying people have demolished 'arrogance' of the Bharatiya Janata Party, which attributed its defeat to local issues and 'internal strife' in the state.
JMM's working president Hemant Soren, the chief ministerial candidate of the alliance, said with the electoral mandate, a new chapter begins which will prove to be a milestone.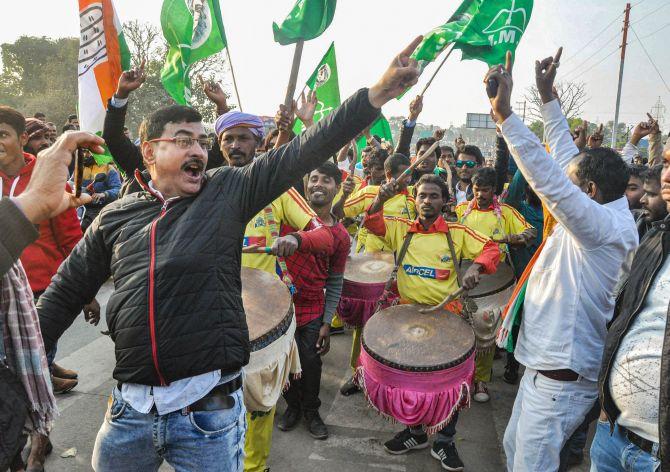 The JMM-Congress-RJD alliance's victory in the Jharkhand assembly polls was of extreme contemporary importance. The people have defeated the BJP's attempts to divide the society on caste and religious lines.
-- Sonia Gandhi, Congress president
We are very happy and we congratulate and thank the people of Jharkhand for giving the JMM-Congress alliance an overwhelming mandate.
The BJP is not unbeatable. If all opposition parties rally together and understand the dangers faced by the country and come together; surely the BJP can be defeated and the BJP will be defeated in future elections also.
-- P Chidambaram, Congress leader
Congratulations Hemant Soren ji, RJD, INC Jharkhand on winning. People of Jharkhand have entrusted you to (sic) fulfill their aspirations. My good wishes to all brothers/sisters in Jharkhand. Elections were held during CAA-NRC protests. This is a verdict in favour of [the] citizens.
-- Mamata Banerjee, West Bengal chief minister
So it appears that the people of at least one state have conclusively given their verdict that they do not want it (Citizenship (Amendment) Act and National Register of Citizens). The result reflects public reaction to the arrogance of the BJP visible across the country. People want to vote for performance, apparently they (BJP government) did not work.
-- Arvind Kejriwal, Delhi CM
The people want to hear from the government on employment, bread, water, forest, land, farming and trade, but the BJP tried its best to divide the people to hide its failed politics. Today the public's answer has come. Congratulations to all the members of the grand alliance. Congratulations to Hemant Soren. Congratulations and love to the Congress workers.
-- Priyanka Gandhi Vadra, Congress general secretary
With these results, BJP's divisive agenda had not only been exposed but had also been rejected outright by the people. The mandate marked the defeat of the ruling party's communal politics. Coming at a time when a strong anti-BJP wave was sweeping the nation, as manifest in the widespread public protests against the unconstitutional CAA and NRC of the central government, the Jharkhand results validate the Congress party's secular agenda.
It is only a matter of time now for the saffron hue to be lifted from the nation's face, and give way to a bright future for its people...false promises and fake claims cannot take any political party far which the BJP has dogmatically failed to appreciate or accept.
-- Amarinder Singh, Punjab CM