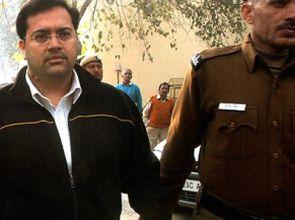 The Delhi High Court on Monday reserved its verdict on the parole plea of Siddharth Vashisht alias Manu Sharma, who is undergoing life term for killing ramp model Jessica Lall in 1999, to appear for his post-graduation exams in Human Rights and to submit his thesis on the subject.
A vacation bench of Justice Sunita Gupta reserved the order after hearing the arguments on behalf of Sharma and perusing the status report submitted by Delhi police pursuant to the court's order.
Senior advocate S Nandrajog, appearing for Sharma, said a parole of one-month duration is being sought as his client needs to prepare and submit his thesis apart from giving the exams which will commence from June 19. Nandrajog, assisted by advocate Arpit Batra, said that in order to prepare a thesis, a guide needs to be engaged, which will take time.
He also said Sharma's conduct has been good while behind the bars and that a charitable trust set up in his name has done a lot of good which has been commended even by the Lieutenant Governor.
Sharma has been pursuing the course from Indian Institute of Human Rights which is recognised by the United Nations. Meanwhile, Delhi police, in its status report submitted in pursuant to the court's order, opposed the month-long duration of the parole saying not even six months have passed since he was granted a relief on similar grounds in December 2013.
It said if he knew he had to give exams as well as present his thesis in June, he should not have availed a two-week long furlough in February this year.