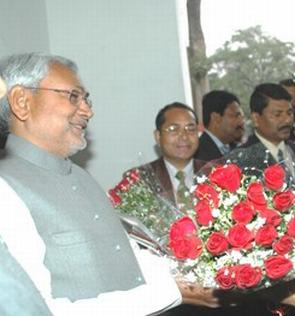 At least six people were injured in Patna on Tuesday when workers of the Bharatiya Janata Party and the Janata Dal - United clashed with each other.
JD-U had on Sunday ended its 17-year-old alliance with the BJP, its coalition partner in the ruling state government, after controversial Gujarat Chief Minister Narendra Modi was elevated within the saffron party.
To protest JD-U's decision to pull the plug on the alliance, the BJP had called for a Bihar bandh on Tuesday, to mark Vishwasghat (betrayal) Day.
Workers of the formerly friendly parties attacked each other with lathis and iron rods in Patna.
According to police officials, JD-U spokesperson Rajeev Ranjan and three other party leaders were injured when BJP workers attacked them during the clash.
"Violent clashes took place after BJP workers raised slogans against Chief Minister Nitish Kumar. JD-U workers countered them by raising slogans against Narendra Modi," said a senior police official.
Senior BJP leaders including C P Thakur, Sushil Kumar Modi, Rajiv Pratap Rudy and Syed Shahnawaz Hussain were detained at Dak Bunglow Chowk, police said.
Describing the bandh as "the biggest observed in Bihar since Emergency", Hussain said, "This is the beginning of the downfall of the Nitish government. We have not see such a massive shutdown earlier and JD-U members will agree with me regarding the intensity of the bandh."
The buses in which these leaders were being taken away to Gardanibagh stadium was thronged by BJP workers.
Earlier, the leaders led a protest march from party headquarters to Dak Bunglow Chowk in the heart of the town.
As the law and order situation appeared to get out of control, District Magistrate N Sarvanan Kumar and Senior Superintendent of Police Manu Maharaj rushed to the spot and pacified the warring groups.
Talking to reporters, Bihar unit BJP chief Mangal Pandey alleged that Chief Minister Nitish Kumar had instigated JD-U workers to foil the BJP-sponsored bandh and attack its workers.
The bandh affected normal life, with BJP workers forcing closure of shops, market places and disrupting movement of trains in the districts like Darbhanga and Nalanda -- the native district of the chief minister, official sources said.
Bandh supporters also blocked roads in Aurangabad, Purnia, Muzaffarpur and other districts.
BJP leader Ravi Shankar Prasad said his party has taken to the streets in Bihar as people were feeling "deeply humiliated and cheated" since they had given the mandate to the JD-U-BJP to govern.
"We were governing very well. And suddenly, only because of ego and arrogance, you sought to break this alliance. Therefore, the people are really feeling very deceived. And to articulate that concern, we have hit the streets today," he told reporters.
On 'Brand Modi' taking BJP through in the Lok Sabha polls, Prasad said, "Modi is a very popular leader because of his governance, because of his integrity, because of his leadership. Whether he will become the prime ministerial candidate or not is a question which has to be decided by the party's Parliamentary Board."
Taking on the Bihar chief minister, he said in 2003, Nitish Kumar had showered praised on Modi and maintained that he had material to serve the nation.
"What happened in ten years," Prasad said and criticised Kumar for not extending "due protocol" to the Gujarat CM when he came to Bihar in 2010.
The BJP leader accused Kumar of playing the "politics of rank opportunism and convenience".
He said, "If Modi is one of the most popular leaders of India, it is Nitish Kumar who is having a problem on that score. It is basically pure and simple vote bank politics."
On Prime Minister Manmohan Singh describing Kumar as secular and the Bihar CM thanking him for the remark, Prasad said, "I am very happy that Nitishji was so desperate to get a certificate from the prime minister about his secular credentials. Good luck to him".
"But he is known to have impeccable anti-Congress credentials. And if you are inching towards that for rank opportunism, I am sure the people of the country are watching," he said, adding that the people would give a fitting response.
Additional inputs from PTI
Image: Bihar Chief Minister Nitish Kumar | Photograph: Courtesy: http://cm.bih.nic.in/