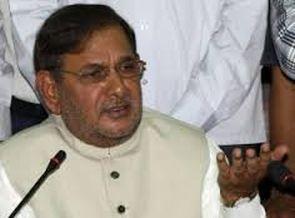 Janata Dal-United chief Sharad Yadav on Friday attacked erstwhile ally BJP for felicitating two of its MLAs who were arrested for allegedly being involved in Muzaffarnagar riots and said the real face of the party had now become visible.
He also said that the saffron party had lost direction after Narender Modi became its prime ministerial candidate.
"I strongly condemn that incident. They have shown their real face to the people of the nation. And cleverly they have felicitated them before (Modi's) arrival," Yadav told reporters.
He said that while BJP leaders spoke about appeasement, the question was who were the 50,000 people sitting outside relief camps.
BJP top leaders from the state honoured the two MLAs -- Sangeet Som and Suresh Rana -- at the venue of Modi's rally but the felicitation was done before the Gujarat chief minister's arrival. The two were presented with headgear and a shawl.
Yadav said BJP had lost direction and indulged in debating useless issues instead of discussing matters of public importance.
"I feel this trend has intensified in the last 3-4 months after BJP announced their prime ministerial candidate. After this announcement, useless and filthy debates and discussions have started at different forums and media in the wake of elections in five states," he said.
Yadav said personal blame game had started between political parties, which should rather discuss only on such issues which concern the poor, underprivileged or will be of genuine service to the nation.
He said the country's economy was in a bad shape and the poor were not benefiting from schemes meant for them.