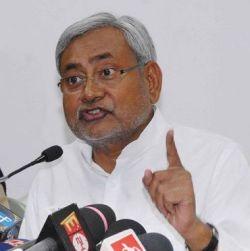 Amid reports of Nitish Kumar shifting to Delhi as Rajya Sabha member to play a bigger role in uniting parties against the Bharatiya Janata Party, Bihar Janata Dal-United President Basistha Narayan Singh on Saturday dismissed any such possibility terming the reports as "imaginary."
"Why shall he go to Rajya Sabha?...he himself has taken the task of going to people to seek their mandate once again in 2015 assembly poll," Singh told a section of media.
"There is neither fact in such reports nor is there any weight behind it," he said dismissing chance of Kumar going to Rajya Sabha.
Kumar demitted the office of chief minister after JD-U's drubbing in the just concluded Lok Sabha elections.
A new bungalow on 7 Circular Road has been notified by the state Building Construction Department in his name as former chief minister, Singh said to drive home his point.
Singh himself is a Rajya Sabha member. Kumar at present is member of Bihar Legislative Council.
The reports of Kumar going to Rajya Sabha arose in view of vacancy of three seats in the Upper House of Parliament from Bihar after victory of three existing members in the Lok Sabha poll.
The three Rajya Sabha members who successfully contested the Lok Sabha polls are – Lok Janshakti Party President Ramvilas Paswan, Bharatiya Janata Pary Rajiv Pratap Rudy and Ramkripal Yadav.

Image: Former Bihar CM Nitish Kumar