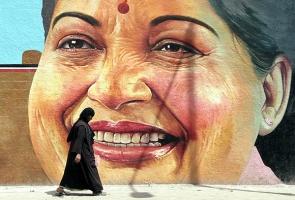 Eyeing a prominent role in the next government at the Centre, the All India Anna Dravida Munnetra Kazhagam on Tuesday promised to extend populist schemes like distribution of free mixies, grinders, fans, milch cows and goats across the country in its Lok Sabha manifesto.
Releasing the manifesto in Chennai, party chief J Jayalalithaa said, "In the election manifesto of AIADMK, we have spelt out many policies and promises to implement schemes aimed at not only at the development and growth of Tamil Nadu but the development and growth of the Indian nation."
Since the development of states is dependent on the Centre's economic, foreign and fiscal policies, "it is essential that a government at the Centre is formed, of which the AIADMK will be an integral part, so as to restore the rights of Tamil Nadu, and to obtain for Tamil Nadu its due share, and for devolving additional powers upon the states," it said.
Listing out her government's populist schemes in different sectors in the state, the manifesto said the "AIADMK will ensure the implementation of the above laudable schemes at the all India level."
Harping on the Sri Lankan Tamils issue, the party promised that it was determined to move the United Nations for holding a Referendum amongst Tamils in Sri Lanka and displaced ones across the world for the formation of a separate Eelam (homeland).
Reiterating its opposition to FDI in retail trade, the party said it would take measures to rescind the existing United Progressive Alliance government policy, while proposing to replace the "half-baked" Food Security Act with a Universal Public Distribution System.
Among others, it promised efforts for the recovery of Indian black money stashed in foreign havens, income tax exemption of up to Rs five lakh and a transparent natural resources policy to ensure that the natural resources are made available to consumers at fair price.
The AIADMK promised that it would withdraw the authority given to oil marketing companies to determine the prices of petrol and diesel.
The party also promised to retrieve Katchatheevu Island, ceded to Sri Lanka, to protect its fishermen from attacks from Sri Lankan navy.
Affirming its commitment towards upholding 69 per cent reservation, AIADMK promised to implement reservation in other states in accordance with the unique social structure prevailing in each of them.
A separate fund will be established to insulate and hedge the impact of variations of exchange rate on the price of petroleum products and thereby protect the common public from adverse price shocks.
Action will be taken to maintain the price of petrol, diesel and domestic LPG at the same level throughout the year. Steps will be taken to increase the eligible number of subsidised LPG cylinders.