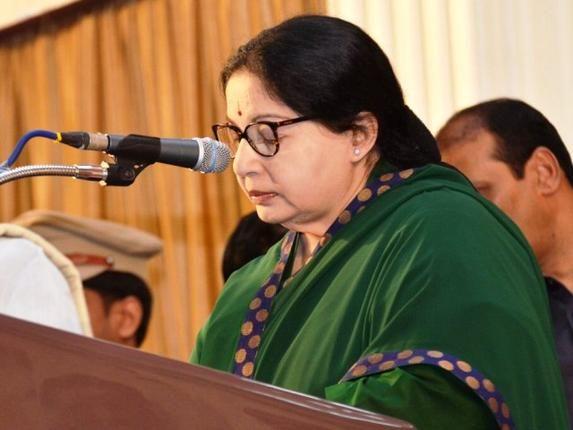 The AIADMK supremo retained 13 of her ministers, who were in the previous cabinet, besides inducting 17 new faces including four women.
All India Anna Dravida Munnetra Kazhagam supremo J Jayalalithaa, who bucked a 32-year trend to storm back to power for a second consecutive term, on Monday took oath as chief minister for the sixth time at a function attended by Dravida Munnetra Kazhagam leaders, departing from the practice of rivals keeping away from each other's swearing-in ceremony.
Jayalalithaa, 68, along with 28 others, including her trusted lieutenant O Pannerselvam, took the oath of office and secrecy in the name of God in Tamil that was administered by Governor K Rosaiah.
Later in the evening, the chief minister inducted four more ministers, who will be sworn in on Wednesday, taking the size of the cabinet to 32, the maximum permissible limit under norms.
Minutes after she was sworn in, Jayalalithaa went about issuing a slew of orders aimed at fulfilling her electoral promises, including waiving crop loans of farmers, 100 free units of electricity to consumers and closing 500 liquor shops.
She also ordered increase in gold allocation to women and reducing the working hours of state-run Tamil Nadu State Marketing Corporation liquor outlets besides closure of 500 of its shops.
Jayalalithaa first signed a file ordering waiver of crop loans up to March 31, 2016 payable to co-operative banks. The waiver includes crop loan, medium and long term loans of small and micro farmers payable to co-operative banks. The decision would entail a financial burden of Rs 5,780 crore to the government.
Showering freebies, she ordered 100 free units of power for consumers with effect from Monday, a decision that would cost the state exchequer an additional Rs 1,607 crore.
The CM also signed an order for raising gold allocation to women under Thallikku Thangam (Gold for Mangalsutra) scheme from four gm to eight gm.
Amid the demand for enforcing prohibition, Jayalalithaa ordered closure of 500 state-run TASMAC retail liquor outlets and cut short the working hours of bars. With effect from on Tuesday, the retail outlets and bars would function from noon to 10 pm instead of the current 10 am to 10 pm.
The AIADMK supremo retained 13 of her ministers, who were in the previous cabinet, besides inducting 17 new faces including four women.
The seating arrangement for the ceremony, however, kicked up a row with DMK president M Karunanidhi alleging his party was 'insulted' as his son and political heir Stalin was made to sit 'among the crowd'.
Union ministers M Venkaiah Naidu, Pon Radhakrishnan, Lok Sabha Deputy Speaker and senior AIADMK leader M Thambidurai, besides Jayalalithaa's aide Sasikala were seated in the front row.
'Stalin, who has the qualification to sit in the Main Opposition (possibly as its Leader) after (DMK) won 89 seats, was given seat among the crowd whereas Sarath Kumar (an AIADMK ally) was seated in the front row,' Karunanidhi said in a statement.
The DMK was 'insulted' in a planned manner, Karunanidhi said and criticised Jayalalithaa over the incident.
Stalin, attired in a white shirt and dhoti, was spotted seated in the 16th row at the Madras University Centenary Auditorium, the venue of the swearing-in function, breaking a practice of the rivals keeping away from the other's ceremony.
Amid slogans of 'Puratchi Thalaivi Amma Vazhga (Long live revolutionary leader Amma) by AIADMK supporters, Jayalalithaa stepped into the decorated Madras University Auditorium in her trademark green saree. Slogans hailing the party chief echoed even as she signed the documents after taking oath.
Arrangements had been made for live telecast of the ceremony in many parts of the state with giant LED screens being placed at vantage points.
While Jayalalithaa took oath alone, 28 of her ministers were sworn-in in two groups at the ceremony that lasted less than 30 minutes.
The ministers retained were O Panneerselvam, Eddapadi K Palaniswami, Sellur K Raju, P Thangamani, SP Velumani, C V Shanmugam, M C Sampath, R Kamaraj, C Vijayabaskar, S P Shanmuganathan, R B Udhaya Kumar, K T Rajenthra Balaji and K C Veeramani.
K P Anbazhagan, who was also sworn in, was a minister in the AIADMK cabinet during 2003-06, while D Jayakumar was the speaker of the state assembly for a brief period during Jayalalithaa's previous tenure.
The new faces are Dindigul Srinivasan, V Saroja, K C Karuppannan, O S Manian, Udumalai Radhakrishnan, R Duraikannu, Kadambur Raju, Benjamin, Vellamandi N Natarajan, S Valamathi, V M Rajalakshmi, M Manigandan, and M R Vijayabaskar.
The names of Nilofer Khafeel, Sevvoor S Ramachandran, G Baskaran and P Balakrishna Reddy, were announced later in the day. They will be administered the oath of office and secrecy on Tuesday.
The entire route from Jayalalithaa's Poes garden residence to the swearing-in venue was filled with cheering AIADMK supporters who showered rose petals on her vehicle as it whizzed past.
Musicians played instruments welcoming the AIADMK supreme and party workers broke into a jig as her convoy wound its way through a sea of party supporters and general public who lined both sides of the road.
The entire stretch leading to the venue was decorated with festoons and AIADMK workers kept waving party flags.