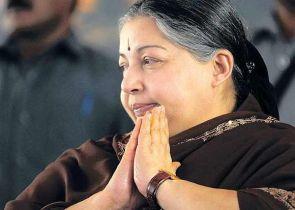 Holding that it was All India Anna Dravida Munnetra Kazhagam supremo J Jayalalithaa, who had paid for the arrangements for the lavish marriage of her now estranged foster son VN Sudhakaran, the special court in the disproportionate assets case against her pegged the expenses incurred by her at Rs 3 crore.
Sudhakaran's marriage, dubbed as "mother of all weddings" was held in 1995 when Jayalalithaa was the chief minister and had raised a huge controversy, inviting public criticism for ostentation, protests and petitions to court.
"It is established in evidence that huge amount was spent towards the printing of invitation, publication of thanks in the dailies, 'tamboolam' and valuable presents given to the guests, all of which would certainly entail an expense of more than Rs 3 crore even by modest and conservative estimation," Special Judge John Michael D'Cunha said.
"Taking into consideration all the above facts and circumstances, a sum of Rs 3 crore is taken as the expenses incurred by A-1 (Jayalalithaa) towards arrangement for the marriage of A-3 (Sudhakaran)," he said rejecting their contention that the expenses were met by the bride's family.
The judge noted that oral and documentary evidence produced by the accused in support of their defence is "replete with the inconsistencies and irreconcilable contradictions".
The evidence indicates that the arrangements were sponsored by Jayalalithaa and at her instance all the arrangements were made and even the payment was made by her, he said. The prosecution had come up with the case that over Rs 6 crore was spent for the marriage.
The judge also said that witnesses have clearly stated that VIPs were invited and had attended the marriage and accommodation was arranged for them in hotels, the payment of which was made by Jayalalithaa. "All these circumstances falsify the contention of the accused that the marriage expenses were met by the family of the bride," he said.
The prosecution had come up with the case that a sum of Rs 6,45,04,222 was spent for the marriage, out of which, Rs 5,21,23,532 were spent for putting up pandals.
Though the said amount looks exorbitant, but having regard to the accommodation provided to more than 40,000 to 50,000 people at two places and special arrangements made for the stage and decoration, the said amount does not appear to be unreasonable, the judge said.
The judge said that the court had come in evidence that a number of cooks were employed and were paid wages, elaborate sitting arrangements were made at the venue, posh accommodation was arranged for the VIPs, elephants were procured from Kerala, crackers were burst and the entire venue was illuminated with lights, which would certainly entail huge expenses. "Therefore, taking into consideration all the above facts and circumstances, a sum of Rs 3 crore is taken as the expenses incurred by A-1 towards the arrangement for the marriage of A-3," the judge said.

Image: Former Tamil Nadu CM J Jayalalithaa