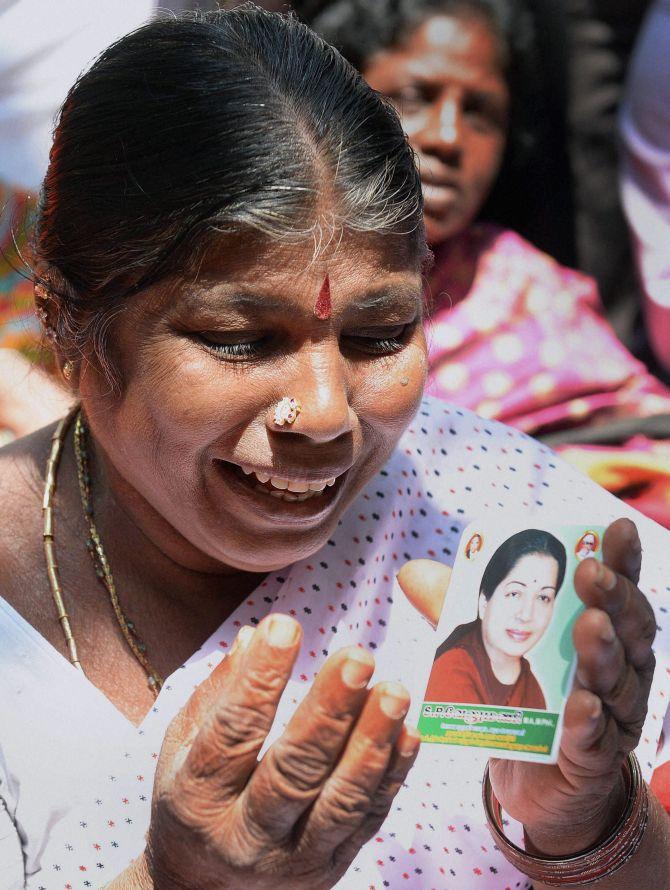 A supporter of AIADMK leader Jayalalithaa cries outside the Karnataka high court after her conditional bail was rejected in Bengaluru. Photograph: PTI photo
Jailed former Tamil Nadu Chief Minister Jayalalithaa, undergoing four-year imprisonment in a graft case, was on Tuesday refused bail by the Karnataka high court which held that there were no grounds for it as corruption amounts to "violation of human rights" and must be dealt with seriously.
The order, that came as a blow to the 66-year-old All India Anna Dravida Munnetra Kazhagam chief and shocked her supporters outside, was delivered by Justice A V Chandrashekhara despite the Special Public Prosecutor Bhavani Singh saying he had no objections to grant of conditional bail to her.
There "are no grounds" to give bail to Jayalalithaa. Corruption amounts to "violation of human rights" and leads to economic imbalance, the judge observed in his order delivered in a packed court room amidst tight security in the court complex.
Jayalalithaa's lawyers are planning their next strategy on approaching the Supreme Court at the earliest to challenge the order. AIADMK MP and lawyer A Navaneethakrishnan said they are awaiting a word from Jayalalithaa who has been in the central prison since her conviction on September 27.
The judge said corruption had become a "serious malady in human history" and noted that the Supreme Court has repeatedly directed that graft cases should be disposed of on top priority basis.
Supporters of AIADMK leader Jayalalithaa cry for her release near the high court in Bengaluru. Photograph: PTI

He also held that there is no reason to extend the benefit of suspension of sentence to the four accused, including Jayalalithaa.
Justice Chandrashekhara said corruption should not be lightly dealt with. It had to be dealt with seriously as otherwise, "it will become a disease in our society".
The SPP had earlier filed objections to suspension of the sentence and bail in writing but on Tuesday told the court during hearing that conditional bail could be granted to Jayalalithaa and three others.
As word of the SPP's stance spread, celebrations broke out among delirious AIADMK supporters near the jail and the court as they burst crackers and danced in joy. But the celebrations were shortlived, giving way to a state of shock when the verdict was out. Women supporters wailed while some men laid themselves flat on the road.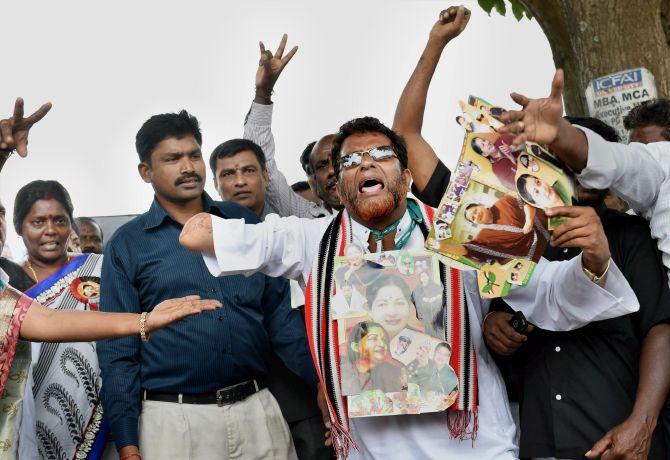 Jayalalithaa supporters raise slogans for her release near the Central Jail in Bengaluru. Photograph: PTI

Pleas by Jayalalithaa's close aide Sasikala and her relatives V N Sudhakaran, also disowned foster son of former Tamil Nadu chief minister, and Ilavarasi, for suspension of sentence and bail were also rejected by the court.
"My client will take a call," senior counsel Ram Jethmalani, who appeared for Jayalalithaa, said after the verdict when asked whether they will approach the Supreme Court.
Citing a court judgment, Justice Chandrashekara said "the suspension of sentence and grant of bail cannot be asked as a matter of routine (saying) that the accused was on bail during the trial and did not misuse the liberties granted".
Azmath Pasha, counsel for Ilavarasi, said "tomorrow is holiday. We will get the verdict copy on October 9 and file Special Leave Petition on October 10 in the Supreme Court. All the four... we are approaching."
Strongly pleading for immediate bail to Jayalalithaa, Jethmalani cited several Supreme Court verdicts, including the one granting relief to his client former Bihar Chief Minister Lalu Prasad, in the fodder scam.
The court did not accept the submission, with the judge noting that Lalu Prasad had spent 10 months in jail before being granted bail by the apex court.
Jethmalani pleaded for suspension of the sentence by the special court which had sent her to four years in jail, pending her appeal against it.
He also told the court, which took up the matter on Tuesday after the vacation bench had adjourned it on October 1, that the "regular practice" was to give bail. Jethmalani also said appeals should be heard within a reasonable period of time.
Criticising the judgment of the special court in the Rs 66.65-crore disproportionate case, he said assets prior to the period between 1991 and 1996 (when Jayalalithaa was chief minister) could not be taken into account.
There was nothing disclosed in the conduct of Jayalalithaa to show that she might abscond, he contended.
© Copyright 2021 PTI. All rights reserved. Republication or redistribution of PTI content, including by framing or similar means, is expressly prohibited without the prior written consent.