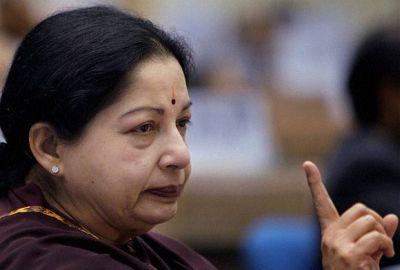 Tamil Nadu Chief Minister J Jayalalithaa was on Saturday convicted and sentenced to four years jail in an 18-year-old corruption case in a judgment that will unseat her from the post, disqualified her immediately as an MLA and can impact the Assembly elections due in 18 months.
Since she has been sentenced to a term of more than 3 years, the chief minister has been taken to jail and she can apply for bail only from Karnataka High Court.
The 66-year-old AIADMK supremo has also been slapped with a fine of Rs 100 crore, highest imposed on any politician, by a special judge John Michael D'Cunha who heard the case of Rs 66.65 crore disproportionate assets acquired during her first term as chief minister between 1991 and 1996.
The conviction in the high-security court complex of Parappana Agrahara near here came amidst dramatic scenes outside where AIADMK supporters burnt effigies of DMK leader Karunanidhi and Subramaniam Swamy who had initially raked up the case.
The conviction also evoked sporadic violence in Tamil Nadu where public vehicles were attacked and shops closed.
The Directorate of Vigilance and Anti-corruption had filed a charge sheet in the case which was transferred to the court here in 2003.
The court also convicted three others--Jayalalithaa's close friend Sasikala, Sasikala's niece Ilavarasi and her nephew and Chief Minister's disowned foster son Sudhakaran--and sentenced them to four years of jail term.
Special Public Prosecutor Bhavani Singh said a sum of Rs 10 crore has been imposed on the other three convicts. He said the four can apply for bail by moving an application before the High Court.
Under a Supreme Court judgment of July last year, any MP or MLA who is convicted of a crime with more than two-years sentence will be disqualified as an elected representative from the date of conviction.
Unless the conviction is stayed or overturned by a superior court, she will be disqualified under the Representation of the People Act from contesting elections for a period of 10 years--four years from the date of conviction and six years thereafter.
Jayalalithaa has had the dubious distinction of having to resign in 2001 following a Supreme Court judgment that nullified her appointment in view of her conviction in TANSI land deal case.
The verdict immediately triggered speculation as to who will replace Jayalalithaa as Chief Minister.
The names of senior minister O Panneerselvam, who had taken over as Chief Minister in 2001 after she was unseated and till her return, Transport Minister V Senthil Balaji and Electricity Minister R Viswanathan and even former Chief Secretary Sheela Balakrishna are doing the rounds.
The verdict has come as a jolt to the ruling AIADMK as it had been enjoying a winning spree in all the elections held since April 2011, when the party trounced DMK.
The party had put up a stellar performance in the Lok Sabha polls this year, winning 37 of the 39 states in the state, though its hopes of a pivot role in the Centre failed with the BJP mustering majority on its own.
However, there is no threat to the party government as AIADMK has a solid majority of 150 seats in the 234-member Assembly.
She had been acquitted in several other cases filed during the DMK regime.
© Copyright 2021 PTI. All rights reserved. Republication or redistribution of PTI content, including by framing or similar means, is expressly prohibited without the prior written consent.