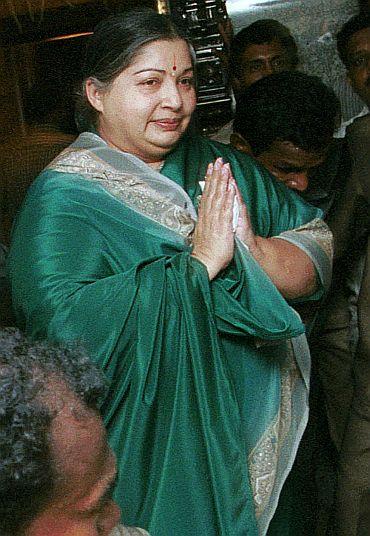 An "offensive" article on Tamil Nadu Chief Minister Jayalalithaa published on the Sri Lankan Defence Ministry website with an accompanying graphic image of Prime Minister Narendra Modi kicked up a storm in India which acted with "alacrity" on Friday to force the island nation to tender an unqualified apology.
As the article brought rival parties in Tamil Nadu together in a rare show of unity to condemn it, the defence ministry said the text titled 'How meaningful are Jayalalithaa's love letters to Narendra Modi?' had been published without appropriate authorisation and that it has been removed from the website. The issue also triggered protests in Indian Parliament.
Taking strong exception to the article about her, Jayalalithaa dashed off a letter to Modi in which she said that though it had been removed "the damage has been done".
The chief minister accused Sri Lanka of trying to create fissures in India's federal polity as she demanded an unconditional apology from Colombo for the insinuations against her.
The Indian High Commission in Colombo raised the matter with the Sri Lankan government following which the country's defence ministry removed it and tendered an unqualified apology to Modi and Jayalalithaa.
"We extend an unqualified apology to the Hon Prime Minister of India and Hon Chief Minister of Tamil Nadu," said a statement posted on the Lankan Defence Ministry website.
"The article which had been published without appropriate authorisation and not reflecting any official position of the Government of Sri Lanka or Ministry of Defence and Urban Development has since been removed," it added.
External Affairs Ministry Spokesperson Syed Akbaruddin said the government acted with "alacrity" after knowing about the objectionable article and it drew immediate result.
"We acted with alacrity. We have achieved our objective and should any further action be required we will certainly consider this and take appropriate action," he told reporters in Delhi.
"I can confirm to you that as soon as we took up the matter, we drew immediate result and too our entire satisfaction, that offensive article was removed.
"If there are further things that we need to do, we will certainly consider them," he added.
In a rare show of camaraderie, political parties in Tamil Nadu rallied behind Jayalalithaa even as ruling AIADMK and various Tamil outfits staged protests across the state and burnt effigies and photos of Sri Lankan President Mahinda Rajapaksa. Arch rival DMK called the article "cheap".
"The visual rendering on the homepage of the official website just above the link is highly objectionable as it depicted both the prime minister of India and chief minister of Tamil Nadu (herself) in a very trivialised, derogatory and disrespectful manner," Jayalalithaa said in her letter to Modi.