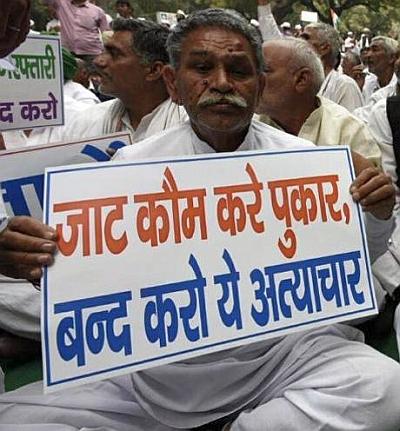 The Jat agitation for quota in jobs and education reached Delhi on Thursday with thousands of community members from the northern states descending at Jantar Mantar to extend support to the movement in Haryana.
Roads leading to the protest hub were packed with Jat agitators from Uttar Pradesh, Haryana, Uttarakhand, Delhi and Punjab, giving a tough time to motorists and commuters.
Police and traffic personnel were deployed at major roundabouts and roads for managing the protesters reaching the venue.
All India Jat Aarakshan Sangharsh Samiti president Yashpal Malik, who is leading the protest at the Jantar Mantar, said this would continue till their demands are met.
"Today we will apprise the government of our demands. We will march up to the Parliament and if necessary, will court arrest too," Malik told ANI.
"We will also announce the date of our march in Delhi in which 50 lakh Jats from 13 states will participate with their tractor-trollies. It will be a historic moment. Our protest will continue until our demands are fulfilled," he added.
Malik further lashed out at Manohar Lal Khattar-led BJP government in Haryana for showing insensitivity towards their demands.
"It is for the government to find a solution before or after the Holi. But seeing the insensitivity of the Haryana Government, it looks like we have to prepare for a long fight," he added.
The All India Jat Aarakshan Sangharsh Samiti president also warned that their protest would have serious repercussions.
"Supply of everything to Delhi will be cut off during our Delhi march," he said.
Besides seeking quota in education and government jobs under the Other Backward Classes (OBC) category, Jats are demanding the release of those jailed during last year's stir, withdrawal of cases slapped during the protest and government jobs for the kin of those killed and injured while taking part in the agitation.
As many as 30 people were killed and property worth crores was damaged at many places in Haryana during last year's violent Jat stir.