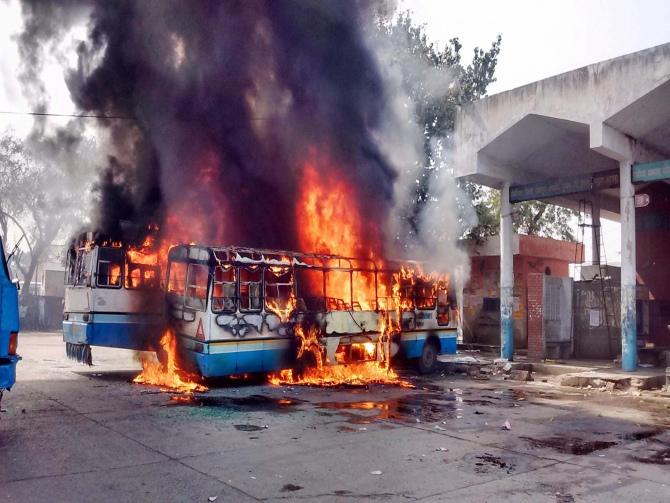 Buses set on fire as the Jat agitation for reservation intensifies in Sonipat. Photograph: Rajesh Sood/PTI
Seven persons were killed on Saturday while several others were injured as security personnel opened fire during violent protests for quota by Jat community in Rohtak and Jhajjar districts, taking the toll to five.
Clashes also broke out between non-Jats and protesters at a few places. "Two persons were brought dead in PGIMS here just an hour ago. One patient, who was critically injured, was operated upon but he died few minutes ago," hospital authorities in Rohtak said0.
"Another patient was brought dead at Jhajjar civil hospital with bullet injury in his head," Jhajjar civil hospital official said.
Six patients with firearm injuries were referred to the PGIMS.
"One patient is undergoing treatment in Jhajjar civil hospital," official said. Among the four deceased, three were identified as Parveen (Jhajjar), Krishan (Jhajjar) and Nitin (Rohtak).
Around 14 patients with bullet injuries were brought for treatment in Chandigarh at PGIMS from Rohtak and Jhajjar districts. "Three patients, who are undergoing treatment, are very critical," PGIMS authorities said.
Security personnel today opened fire at Rohtak and Jhajjar districts, the epicenter of Jat agitation in demand for quota under OBC category, official sources said.
The Jat stir had on Friday claimed life of one unidentified person killed in a BSF firing in Rohtak after agitation turned violent.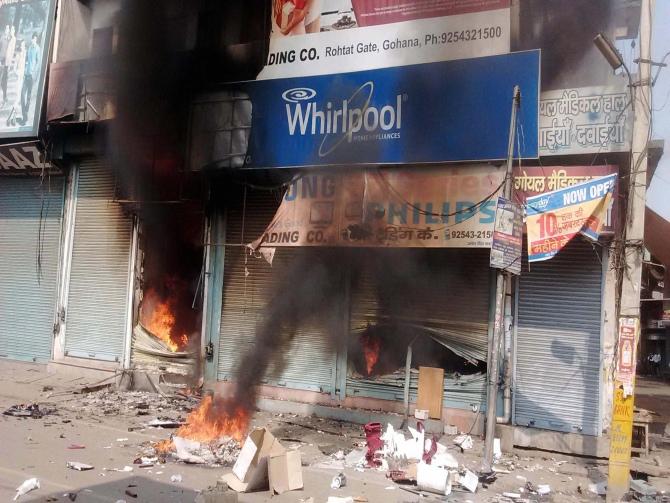 Shops set on fire as the Jat agitation for reservation intensifies in Sonipat. Photograph: PTI
Meanwhile, in Hansi sub-division, two persons were injured in firing during a clash broke out between agitating Jats and non-Jats at Jaggabara village here, the police said on Saturday.
The members from the Jat community were staging a dharna in Mayyar village when someone used objectionable language to which the non-Jats objected, leading to a clash between the two groups.
An unidentified man allegedly opened fire which injured two persons identified as Ram Niwas Saini, a relative of former Haryana minister Attar Singh Saini, and Budh Ram Gurjar, they said.
Both were shifted to Hisar and admitted in a private hospital. The condition of both is stated to be out of danger, the police said.
A group of people belonging to Saini community pelted stones at some shops near Jat Dharamshala Hansi and set a wine shop on fire, the police added. To a question, the DGP said that one person was killed in violence in Rohtak on Friday and 78 others injured.
"PGIMS Rohtak Director informed me that one person had been brought dead. In all 78 persons including five policeman were injured in the incident. 46 have been discharged from the hospital while 36 are admitted that includes 5 in the ICU," he said.
The DGP also appealed to the Khaps to suspend their meetings being held in connection with the Jat stir.
"Many youths who take part in these meetings are influenced and then they move towards major towns and cities to join other protesters. We would also appeal the village elders to make the youths understand not to join protesters and help us in bringing the situation under control," he said.
The DGP said that curfew had been imposed in Rohtak, Bhiwani and Jhajjar districts.
Giving details of the violence, he said some persons had pelted stones at the Jhajjar residence of Haryana Minister O P Dhankar, but no one was injured in the incident.
Similar incidents had also taken place as residences of Finance Minister Capt Abhimanyu also came under attack at Rohtak while BJP MP Raj Kumar Saini, who allegedly made anti-Jat quota remarks, was attacked by some persons at Kurukshetra.
The DGP said while most of the protesters were from Haryana, he did not rule out the possibility of "outsiders" joining the stir to create law and order problem.
"Most of the protesters are from Haryana, but we are not ruling out the possibility of those outside the state joining them," he said, adding their first priority was to bring the situation under control.
The DGP said five persons have been arrested so far in connection with the incidents of violence while 129 had been booked.
Asked to comment on fresh incidents of violence including burning down of a railway station in Jind district, violence in Meham and other places, the DGP maintained, "There was improvement in the law and order situation since yesterday..".
Asked if the state police had left the job of bringing the situation under control to Army and paramilitary forces, he said, "They are aiding us".
On reports that a mob had entered the campus of MDU varsity at Rohtak, he said, "This needs to be verified".
When asked the possibility of misuse of arms and ammunition by miscreants who looted them yesterday from a shop, he said, "According to our information, the looted items mainly contained ammunition."
© Copyright 2021 PTI. All rights reserved. Republication or redistribution of PTI content, including by framing or similar means, is expressly prohibited without the prior written consent.