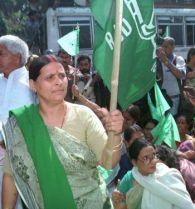 Taking dim view of the ongoing war of words between Janata Dal-United and BJP, former Bihar Chief Minister Rabri Devi said the two estranged allies were orchestrating a 'friendly fight' with each other to distract attention from the real issues.
"The two estranged allies are deliberately playing out a friendly fight to distract public attention from the real issues in Bihar," she said in a statement.
JD-U and BJP looted Bihar during their rule of over seven and half years and when it came to accounting for their performance, these two parties have 'deliberately orchestrated' a 'friendly fight' between them, she said.
The senior RJD leader, who is guiding the party in the absence of her incarcerated husband Lalu Prasad, said it would expose the 'nefarious designs' of both JD-U and BJP and claimed that the people will be befooled by the 'diversionary tactics' of the two former allies.
There was no guarantee that JD(U) and BJP will not join forces again in future, she said.
Attacking Nitish Kumar, she alleged the Chief Minister shared "cosy relations" with BJP patriarch L K Advani, whom he had openly described as his idol.
She further claimed that Kumar in the past had been in good terms with BJP's prime ministerial candidate and his now bete noire Narendra Modi and had even asked him to play a role in national politics despite 2002 Gujarat riots.
Rabri alleged that development and governance have been a casuality in Bihar as the chief minister was not keen to expand his ministry.
Hitting out at Kumar for it, she wondered what was the need of a chief minister when he thought that there was no need for ministers to run the various departments.