Almost three months after announcing his new party, former Karnataka minister and mining baron G Janardhana Reddy on Monday announced 'football' as its poll symbol, the first list of candidates, and also manifesto, ahead of the assembly elections due by May.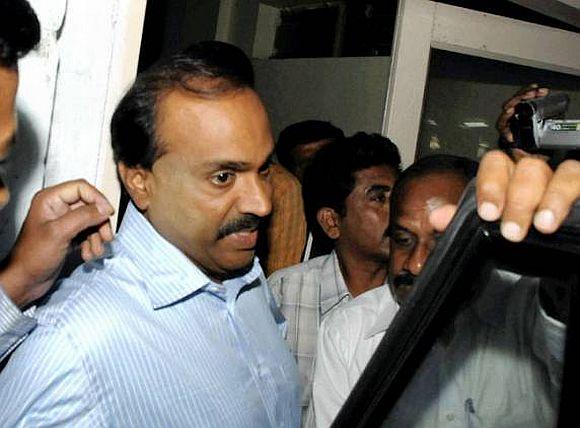 Reddy, who is an accused in an illegal mining case, had recently formed the Kalyana Rajya Pragati Paksha (KRPP), after snapping his two-decade-old association with the Bharatiya Janata Party.
"When I was in politics earlier, I was treated like a football by everyone, irrespective of whether they were my own or others or enemies. Now I have entered the fray to prove that I too can play football with everyone," Reddy told reporters after unveiling the party logo.
According to some political observers, the KRPP may have some impact on the BJP's electoral prospects in certain constituencies, especially in the Ballari belt, by cutting into its votes.
The KRPP is by and large concentrating on certain constituencies of Kalyana-Karnataka (earlier Hyderabad-Karnataka) region, and constituencies where there is considerable presence of Telugu speaking population.
Confirming his candidature from Gangavathi in Koppal district, and that of his wife Aruna Lakshmi from Ballari city assembly segment, Reddy on Monday announced the list of candidates for 10 other constituencies.
They are Mahesh (Hiriyur), Srikanth Bandi (Nagathan), Mallikarjuna Nekkanti (Sindhanur), Nagendra Neralekunte (Pavagada), Mehaboob (Indi), Lallesh Reddy (Sedam), Arekere Krishna Reddy (Bagepalli), Bhima Shankar Patil (Bidar South), Darappa Nayaka (Siruguppa), and Dr Charul (Kanakagiri).
Noting that his party organisational work is on in about 15 districts, Reddy said he has been travelling in rural areas, where there is lack of development, and people there have hope in him and his party to bring about change and usher in development in their villages.
Reddy's KRPP's manifesto includes Rs 15,000 capital support annually for farmers with less than five acres of land, nine hours of continuous free power supply for farmers every day, Arogya Shree health cover to those whose annual income is less than Rs 5 lakh, Rs 2,500 per month financial assistance for women who run the house, 250 units of free power to every household, Rs 2,500 monthly unemployment allowance to jobless youth.
Other promises include 2BHK houses in the name of women for families without houses, and an increase in certain social security schemes.
The announcement of a new political outfit is by and large seen as an attempt by Reddy to re-assert his political credentials.
Ballari is Reddy's political backyard and, as he is handicapped by court imposed restrictions on his entry into his home district, he is contesting outside the district, while has fielded his wife from there.
Reddy had been by and large inactive politically for nearly 12 years, since the time he was arrested by the CBI for his alleged role in the mining scam.
Ahead of the 2018 assembly polls, the J P Nadda-led party had disassociated itself from him, with the then BJP national president Amit Shah stating that "BJP has nothing to do with Janardhana Reddy."
Accused in a multi-crore illegal mining case, Reddy has been out on bail since 2015 and several conditions were imposed by the apex court in its order, including prohibiting him from visiting Ballari in Karnataka and Anantapur and Kadapa in Andhra Pradesh.