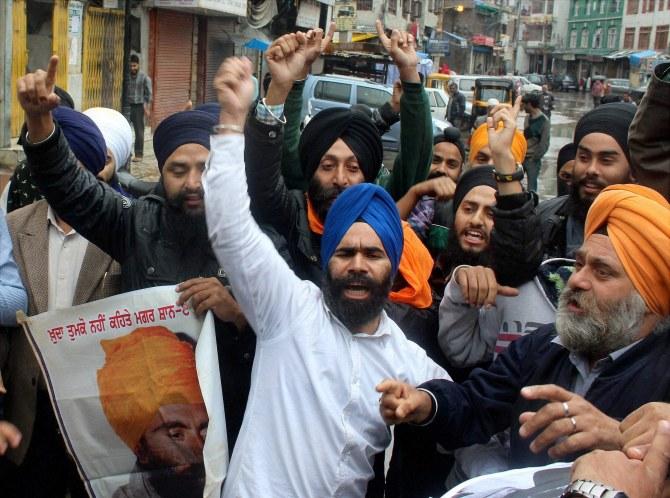 Image: Sikh people shout slogans during their protest at Amira Kadal in Srinagar on Friday against the killing of a Sikh youth in a clash with the police in Jammu. Photographer: S Irfan/PTI Photo
The situation is returning back to normal in Jammu after four days of violent protests over removal of posters of Khalistani militant leader Jarnail Singh Bhindranwale in which one youth was killed.
The army, which was deployed in various parts of the tense Jammu on Saturday morning, has been called off.
"Army has been called off from Jammu city by authorities around 7.30 pm today. We have called off operation Jan Shanti in the city to restore normalcy and peace", PRO Defence Lt Col Manish Mehta said.
By and large situation is returning back to normal in the city after violence for few days, he said adding no untoward incident was reported today.
Earlier, army was deployed in various parts of the city as the Sikh youth killed in clashes with police was cremated after the state government accepted most of the demands of the agitating community, including magisterial probe and transfer of district police chief.
Army carried out a 'Flag March' in the disturbed areas of Jammu, including Miran Sahib, Satwari, Digiana, RS Pura, Talab Tillo, Bakshi Nagar and Rehari this morning as security was stepped up in view of the 31st death anniversary of Khalistani militant leader Jarnail Singh Bhindranwale.
Quick reactions teams of the Army were also deployed in view of the prevailing tension arising out of four-day protest by sikh community members over removal of Bhindranwale's posters which had come up in some localities.
Meanwhile, the Sikh youth killed during clashes with police on Thursday was cremated on Saturday after the state government accepted most of the demands of the agitating community.
The government ordered magisterial probe into firing incident and violence. It would be conducted by Divisional Commissioner Jammu Pawan Kotwal.
Accepting another demand, the government ordered transfer of Senior Superintendent of Police (SSP) Jammu Uttam Chand, suspension of Satwari's Station House Officer (SHO) Kulbir Singh and payment of ex-gratia of Rs 5 lakh and a government job to the next kin of the slain sikh youth Jagjit Singh.
A case under murder charges was also registered against SSP's PSO.
"An FIR under section 302 RPC (murder) has been lodged (in Police Station Satwari) against the PSO of SSP Uttam Chand for firing (during violent protests in which one youth was killed Gadigarh area of city yesterday)", Deputy Commissioner, Jammu Simrandeep Singh said.
The PSO of the SSP had opened fire in "self-defence" during an attack by angry protesters at Gadigarh in Satwari belt of Jammu city, police has said.
"Police has fired in self-defence in which there was a casualty. The entire incident would be looked into and action would to taken against those involved in it," Deputy Chief Minister Nirmal Singh had said.
He said there was peaceful environment in Jammu and such a situation is being created by "some people".
The government posted Ashkoor Wani as DIG Jammu, gave charge of SSP Jammu to Additional SP Rajiv Panday and posted Manjeet Singh as new Station House Officer (SHO) Satwari Police Station.
"The four-hour-long talks late in the night with the administration were successful since all the demands of the community were met," Sikh leader Tarlochan Singh Wazir told reporters.
The government side was represented by state Home Secretary R K Goyal, Director General of Police K Rajendra Kumar, Jammu Divisional Commissioner Pawan Kotwal and other senior civil and police officials.
"The cremation has taken place peacefully at Chohala hamlet in RS Pura tehsil this afternoon. There were no protests," a police officer said.
Streets of Jammu wore a deserted look and business establishments remained closed for third consecutive day today. Educational institutions in Jammu, Samba, Kathua, Rajauri and Poonch districts also remained shut for the second consecutive day.
The mobile and internet services were also suspended in Jammu for the second day.
Apart from the Army, police and paramilitary forces were deployed in strength in sensitive areas.
Authorities had clamped Section 144 of CrPC, which bars gathering of more than four persons at a place, in the entire Jammu district two days back.