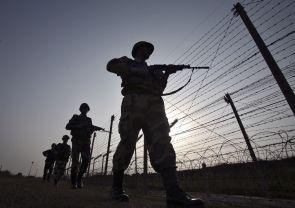 Over 700 villagers, mostly women and children from three villages of R S Pora sector in Jammu district migrated to safer places on Friday evening, following Thursday night's heavy Pakistan firing.
"The villagers were moved out for security reasons as there was heavy firing in these areas," divisional commissioner Jammu, Shantmanu told rediff.com. He said the villagers have been accommodated in government buildings, including some educational institutions.
The district magistrate Jammu visited the area this evening to ensure facilities for the villagers.
"There was, however, no firing on Friday evening," the divisional commissioner said.
Pakistan rangers had resorted to unprovoked firing in the R.S.Pora sector targeting two Border Security Force posts on Thursday night. A senior BSF officer said the rangers also fired mortars triggering panic in the villages near the international border in R S Pora sector.