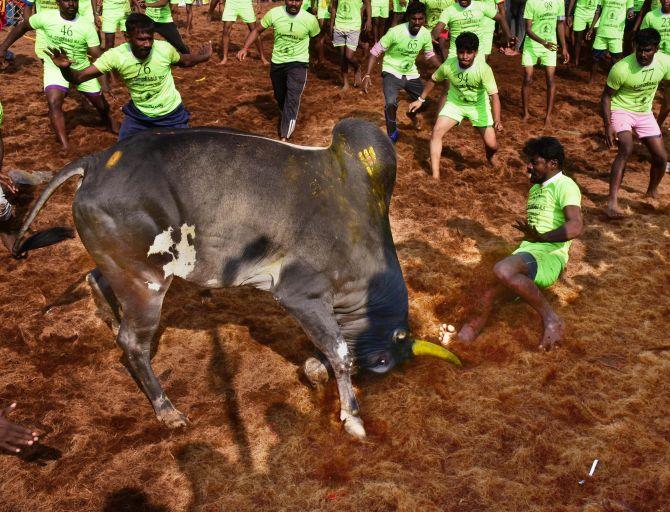 A teenaged spectator was gored to death by a bull while 11 competitors were injured during the bull taming sport of jallikattu held at Palamedu in Madurai, police said.
Nineteen-year old Kalimuthu, who was seated in a front row of the viewers' gallery, suffered fatal stomach injury when the bull running in the playing arena suddenly strayed and attacked him.
After first aid at the medical camp at the venue, the boy was rushed to the Rajaji Government Hospital, but died on the way, police said.
Kalimuthu's friends said he did not expect the bull to attack him and could not react.
Barring the tragedy, the event was marked by traditional gaiety and valour with a participation of a total of 1,080 bulls and 1,188 sportsmen, officials said.
Tamil Nadu Revenue Minister R B Udhayakumar inaugurated the grand event.
A large number of spectators also thronged Palamedu, one of the famous venues for jallikattu in the district along with Alanganallur and Avaniapuram, and cheered the competitors.
Attractive prizes, including gold coins, were given away to the winners who tamed the bulls. One Mani bagged the first prize for taming seven bulls.
Similarly, seven bulls which ducked the sportsmen and remained unconquered were also honoured with their owners getting prizes.
Tight security arrangements had been made with deployment of around 1,200 police personnel, police said.
The sport was held in the presence of the members from the Animal Welfare Board of India and other officials.
The 11 injured sportsmen were immediately treated at the medical camp put up at the venue and sent home.
The sport synonymous with Pongal festivities in this region returned in its full traditional gaiety during the festive period after a gap of three seasons.
Jallikattu remained banned following a Supreme Court order in May 2014 before the state government last year brought an ordinance to facilitate its conduct at the height of a massive protest held at Marina Beach in Chennai and several places across the state.
Accordingly, jallikattu was held in some places during the third week of January and in the first week of February elsewhere, including Palamedu, last year.
Photograph: PTI Photo