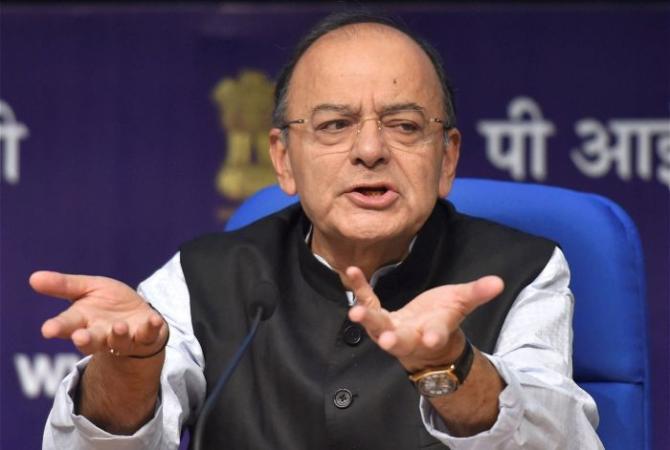 Union Finance Minister Arun Jaitley on Thursday called Congress president Rahul Gandhi a 'Clown Prince' and the opposition party hit back to dub the senior Bharatiya Janata Party leader as a 'court jester' in bitter personal attacks over Rafale deal, non-performing assets and waiving loans of industrialists.
As the rival parties accused each other of resorting to falsehood and lies, the Congress also demanded Defence Minister Nirmala Sitharaman's resignation for allegedly 'misleading' the people on the Rafale deal.
Gandhi accusing the minister of 'lying' on HAL's capability to build the jet fighters, saying her position is untenable.
In a hard hitting Facebook blog titled 'Falsehood of a 'Clown Prince'' to reply to Gandhi's charges made during his political rallies, Jaitley accused him of 'lying' about Modi government waiving Rs 2.5 lakh crore of loans of 15 industrialists.
He asserted not a single rupee of any debtor has been waived by the BJP government.
Loans to the country's 12 defaulters were given out prior to 2014 and it was only the present government which was making recoveries, he said, adding defaulters are losing their companies and assets as they are being auctioned to recover dues.
'You lied on the Rafale deal, you lied on the Non Performing Assets(NPAs). Your temperament to concoct facts raises a legitimate question -- do people whose natural preference is falsehood deserve to be a part of the public discourse,' he said.
'The world's largest democracy must seriously introspect whether public discourse should be allowed to be polluted by the falsehood of a 'Clown Prince'.'
Jaitley alleged the previous Congress-led UPA government "concealed" the loans despite default by rolling them over and NPAs or bad loans were hidden under the carpet.
'The truth, Mr Rahul Gandhi, is that your Government allowed the banks to be looted. The loans were inadequately securitized. Your Government was in complicity,' he wrote.
Jaitley accused Gandhi of 'concocting a lie' and repeating it as many times and went on to cite previous arguments he had made to counter the charges on Rafale deal.
'In mature democracies, those who rely on falsehood are considered unfit for public life. Many have been banished from political activity because they were caught lying. But this rule obviously can't apply to a dynastic organisation like Congress party,' he said.
'If the 'Rafale concoctions' were the first big lie, the second one stated repeatedly is that Mr Modi waived off Rs 2.50 lakh crores of 15 industrialists. Every word of that sentence repeatedly uttered by Rahul Gandhi is false.'
The Congress on its part accused Jaitley of 'lying' on the issue of NPAs and dubbed him as a 'court jester' writing 'wasteful' blogs,
Congress chief spokesperson Randeep Surjewala accused Jaitley of making desperate attempts at spreading 'fake agenda to stay relevant as a court jester' and asked him why he is hiding behind abuse to the opposition and demanded answers from him on the issue of NPAs as well as the Rafale jet fighter deal with France.
He said Jaitley and the Modi government have been 'trapped' on the Rafale issue and that is why they are resorting to abuse against the opposition instead of replying to questions asked.
"Arun Jaitley is desperate in his attempt to stay relevant as a 'Court Jester' to 'Modi Sultanate'. 'Abuse, diversion' and deception' are the desperate tools of a 'Lying -Jait-LIE'.
"Instead of hiding behind the cloak of expletives for the opposition, let FM coherently answer politically relevant issues," Surjewala told reporters.
Attacking the government on the issue of NPAs, the Congress leader alleged collusion between NPA's, bank looters and the Modi government.
"Political amnesia and chest thumping cannot obliterate your dismal record of dismantling India's economic progress or as also the surging NPA's resulting out of 'bankruptcy of economic vision' of Modi Government," he alleged.
Gandhi took to Twitter to attack Sitharaman, alleging that her position as the defence minister has become untenable as a former chief of the state-run Hindustan Aeronautics Limited (HAL) has 'nailed her lie'.
'The RM (Rafale Minister) tasked with defending corruption has been caught lying again. The former HAL Chief, T S Raju, has nailed her lie, that HAL didn't have the capability to build the RAFALE. Her position is untenable & she must resign,' he tweeted and tagged a media report on the former HAL chief's assertion.
Congress spokesperson Manish Tewari cited the remarks of former HAL chief T Suvarna Raju to attack Sitharaman over the issue of HAL's capability to build the Rafale aircraft.
Tewari hit out at Sitharaman for alleging that the United Progressive Alliance did not extend support to HAL when the state-run company was engaged in talks with French firm Dassault Aviation for the manufacturer of Rafale jets in India under the offset agreement.
He said the former HAL chief had made certain 'extremely pertinent points' that 'absolutely demolish' the entire case that the NDA government has been trying to build on the Rafale issue.
Tewari said Raju had made it clear in his statement that HAL and Dassault had signed the mutual workshare contract and given it to the government.