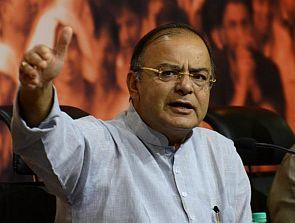 Finance Minister Arun Jaitley on Sunday launched a stinging attack on Rahul Gandhi for voicing "sympathies" for "those who raised slogans for breaking up India" and said it was the Congress vice president's "ideological hollowness" that he did something that likes of Indira and Rajiv Gandhi never did.
The senior Bharatiya Janata Party leader also termed Jawaharlal Nehru University students' union leader Kanhaiya Kumar's speech, delivered following his release on bail, a "victory for us", saying he had gone to jail for raising anti-India slogans but came back to speak amid slogans of 'Jai Hind' and hoisting of the tricolour.
In his valedictory address to a convention of Bhartiya Janata Yuva Morcha, BJP's youth wing, Jaitley said it was the country's "misfortune" that the Congress vice president sympathised with the actions of a "small group of jihadists and a bigger group of Maoists".
Congress had always been against those wanting to break up the country through the last 100 years of struggle between nationalist and anti-national forces, Jaitley said as he attacked Rahul.
"A new trend has started. Some people want to hold an event to commemorate Yakub Memon and some to commemorate Afzal Guru. These people used to comprise a small section of jihadists and a big group of Maoists.
"Slogans were raised for breaking up the country and it was the country's misfortune that a leader of Congress, which has been in the mainstream so far, went there to express sympathies with those who did so. It was ideological hollowness," he said.
BJP fulfilled its "national responsibility and emerged victorious", he said, referring to Kanhaiya's speech without naming the JNU student union president.
While the Left has had a "historical tradition" of speaking against the national interest, Congress was always against the conspiracy to break the country except for Emergency when it was supported by Communist Party of India, Jaitley said.
The JNU row and the opposition attack on the Modi government and BJP was at the centre of the two-day BJYM conclave with party chief Amit Shah, Chief Ministers and a number of union ministers raising the nationalist pitch and attacking Congress, especially Rahul.
Maintaining that a change was happening across the country, Jaitley said the Modi government was voted to fulfil three responsibilities -- to rid the country of dynasty, corruption and hunger and poverty.
Noting that "dysnastic parties" suffered a big defeat in 2014 Lok Sabha poll during which Congress leaders hardly made any reference to corruption, he spoke about a number of schemes, including Jan Dhan Yojana and insurance schemes for life, health and crop, to underline the government's work to help the poor.
Jaitley defended the party's aggressive stand on JNU row, and asked BJP workers to take the "ideological battle forward" while talking about the government's achievements with pride.
"We will definitely win," he said.
For the last 100 years, Jaitley said, nationalist forces and communists have clashed and the latter believed in using violence to break up the country when it became independent.
Addressing the gathering, BJYM president and MP Anurag Thakur said the morcha members will spread across the country carrying the national flag to spread the message of nationalism.