The mercury soared in many parts of northern India on Friday and hovered around the 40 degrees Celsius mark, even as Odisha continued to sizzle and normal life was affected in Rajasthan due to a heat wave in parts of the state.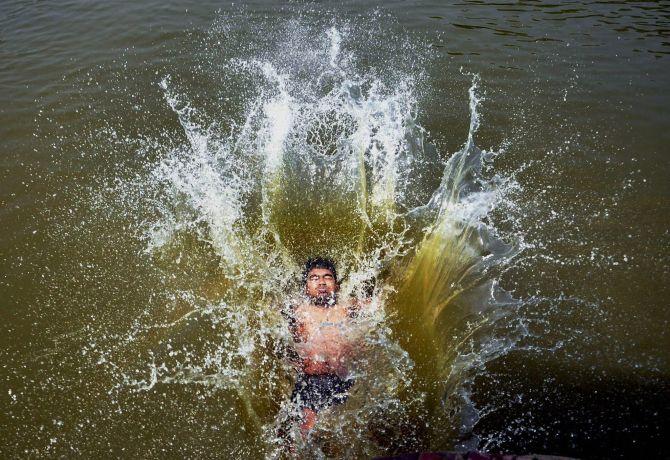 It was a hot day in the national capital with the mercury crossing the 40 degree Celsius mark in some parts of the city.
The Safdarjung observatory, whose recording is considered the official figure for the city, recorded a maximum temperature of 40.6 degrees Celsius, five notches above the season's average.
Areas falling under Palam, Ayanagar and Ridge registered a maximum temperatures of 42.4, 40.8 and 41.4 degrees Celsius respectively while it was 39.2 degrees Celsius at Lodhi road, a meteorological department official said.
Normal life was affected in Rajasthan due to a heat wave sweeping parts of the state, with Jaisalmer being the hottest place recording a maximum temperature of 45.6 degrees Celsius.
Barmer sizzled at 45.4 degrees Celsius, while severe heat wave conditions prevailed in the western part of the desert state.
Bikaner, Churu, Kota and Jodhpur recorded maximum temperatures of 44.5 degrees Celsius, 44.2 degrees Celsius, 44.1 degrees Celsius and 44 degrees Celsius respectively, the met department said, adding that day temperatures at other stations were below 44 degrees Celsius.
Hot weather conditions intensified in Odisha with the mercury hovering above 40 degree Celsius in at least 13 places in the state and Titlagarh remained the hottest at 43 degrees Celsius.
Balangir town in western Odisha recorded a high of 42.7 degrees Celsius followed by 42.5 degrees at Bhawanipatna, 42 degrees Celsius at Malkangiri, 41.9 degrees Celsius at Angul, 41.2 degrees Celsius at Sambalpur and 41.1 degrees Celsius both at Hirakud and Talcher.
The met department has predicted rain or thundershower at one or two places over coastal and interior districts of Kandhamal, Rayagada and Kalahandi under the impact of a well marked low pressure over the Bay of Bengal.
In Punjab and Haryana, the mercury settled above the 40 degrees mark in many places of both the state, with Hisar recording a high of 42.8 degrees Celsius, six notches above normal limits.
Besides Hisar, which was the hottest place in Haryana, Narnaul recorded maximum temperature of 42.5 degrees Celsius, six notches above normal, while Ambala registered a high of 38.5 degrees Celsius, four notches above normal, the met department said.
In Punjab, Amritsar braved hot weather at 40.5 degrees Celsius, eight degrees above normal, while Ludhiana and Patiala recorded maximum temperatures of 40 degrees Celsius and 40.4 degrees Celsius respectively.
The India Meteorological Department has issued a warning that the heat wave condition is likely to occur at isolated places in all districts in Telangana on Sunday.
Adilabad recorded the highest maximum temperature of 43.4 degree Celsius on Friday.
While Nizamabad sizzled at 42.4 degree Celsius, Nalgonda recorded a high of 41.2 degree Celsius, followed by Medak and Bhadrachalam both 40.8 degrees Celsius and Hyderabad 40.3 degrees Celsius.
Day temperatures rose marginally across Himachal Pradesh with Una being the hottest, recording maximum temperature of 39 degrees Celsius.
Shimla, Manali and Kalpa recorded maximum temperatures of 25.6 degrees Celsius, 25 degrees Celsius and 20 degrees Celsius respectively.
Day temperatures rose to 33.9 degree at Nahan, followed by Sundernagar 33.5 degrees Celsius, Bhuntar 31 degrees Celsius, Solan 30.2 degrees Celsius and Dharamshala 29.4 degrees Celsius, the met department said.
Minimum temperatures also rose by a few notches and Keylong was the coldest with a low of 0.9 degrees Celsius while Kalpa recorded a low of 6.2 degrees Celsius, followed by Manali 8 degrees Celsius, Bhuntar 10 degrees Celsius and Sundering 12.3 degrees Celsius.
In Bihar, the met department has forecast partly cloudy skies with the possibility of rain or thundershower on Saturday in some cities in the state.
Among the four major cities, Gaya recorded the highest maximum temperature of 40.2 degrees Celsius, while in Patna it was 37.4 degrees Celsius.
Image: A boy cools off in Agartala. Photograph: PTI Photo.