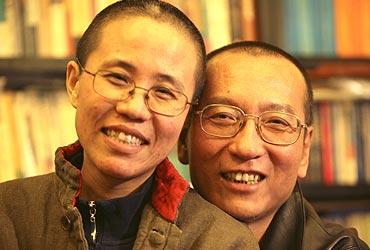 The wife of Chinese activist and Nobel Peace Prize winner Liu Xiaobo, who is serving an 11-year jail term for inciting subversion of state power, is demanding 'unconditional' release of her husband and also considering appealing to a higher court to seek retrial in his case.
"We're seeking unconditional release of Liu Xiaobo ... I will not accept any condition from authorities in exchange for his release," Liu Xia, who herself is under house arrest in Beijing, told the Hong Kong-based South China Morning Post.
She also sounded pessimistic about the prospects of her travel to Oslo to receive the 2010 Nobel Peace Prize on her husband's behalf on December 10, even though she has a new passport with 10 years' validity.
"I am not even allowed to get out of my home alone, so it's nearly impossible that authorities will agree to let me leave the country," she said.
Liu Xia said that she was planning to appeal to the Beijing high court for a retrial in the case of her husband, who was sentenced to 11 years in jail for inciting subversion of state power on Christmas Day last year for helping write 'Charter 08', which calls for multi-party democracy and respect for human rights on the mainland.
The Nobel Peace Prize winner's lawyer Shang Baojun said he would discuss with Liu Xia -- who is banned from going out or talking to the media -- different options to try to free him, including through a retrial and release on probation or for medical treatment.
"Theoretically, all these methods are possible, but we never know because the Chinese government and Communist Party leaders make the final decision. The most urgent task for me is to try to meet Liu Xia, although she's now under house arrest," Shang was quoted as saying by the newspaper.
Liu Xia complained that she is banned from meeting any guests, including Shang, and all calls to her mobile phone are being monitored closely or blocked by police. She told the Post that she is allowed to go out only to buy groceries under police escort.
Liu Xia said that her husband's brother had told her that the prison on Monday began serving Liu Xiaobo individually prepared food, including rice, rather than giving him a portion of food cooked in a large pot for many prisoners, which is usually of poor quality.
But there was no immediate indication that any other living conditions for Liu Xiaobo had improved.
Meanwhile, relatives of the victims of the 1989 Tiananmen democracy protests yesterday joined calls for the release of Liu Xiaobo. "We ask the central authorities to immediately release Liu Xiaobo," Zhang Xianling, one of the signatories of an open letter from the 'Tiananmen Mothers', said.
"He has fought with and supported the Tiananmen Mothers for over 20 years. He has always stood beside us, and today we are standing by him," she said.
Image: Chinese dissident Liu Xiaobo and his wife Liu Xia pose in this undated photo released by his family
Photograph: Handout/Reuters
© Copyright 2020 PTI. All rights reserved. Republication or redistribution of PTI content, including by framing or similar means, is expressly prohibited without the prior written consent.