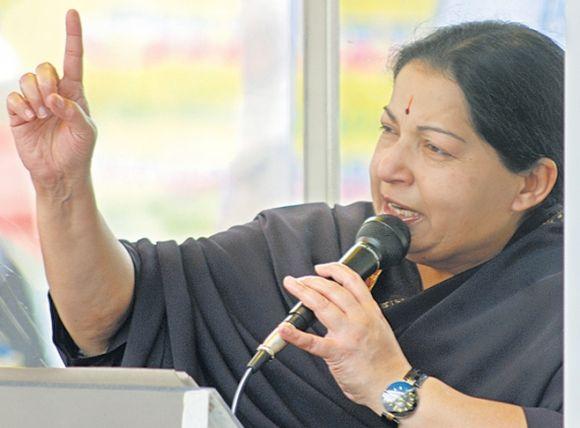 Jailed former Tamil Nadu Chief Minister J Jayalalithaa, denied bail by Karnataka high court following her conviction and four year sentence in a graft case, on Thursday moved the Supreme Court for bail.
The All India Anna Dravida Munnetra Kazhagam chief, who has been behind bars for the last 12 days, challenged the high court order which had refused her bail plea. She urged the apex court to grant an urgent hearing on her plea on Friday during the mentioning hour.
Jayalalithaa has pleaded that she has been sentenced only for four years in the case and she is also suffering from various ailments as grounds for her immediate relief. She said as chief minister she did not misuse her powers in this case. The former CM also cited grounds of being a senior citizen and woman for getting out of jail.
The 66-year-old veteran politician was denied bail by the high court on October 7 despite the special public prosecutor not objecting to grant of conditional bail to her.
In her petitions seeking immediate bail, Jayalalithaa maintained that the charge of amassing wealth against her during 1991-96 when she was the CM for the first time was false and that she had acquired property through legal means.
She also contended that the trial court had overlooked several judgments and not considered the binding nature of various income tax orders and decisions of the Income Tax Appellate Tribunal, which had accepted the income and the level of expenditure pleaded by her.
There "are no grounds" to give bail to Jayalalithaa. Corruption amounts to "violation of human rights" and leads to economic imbalance, the high court judge had said.
The HC also rejected the bail pleas by Jayalalithaa's close aide Sasikala and her relatives V N Sudhakaran, disowned foster-son of the former CM, and Ilavarasi, who have also been sent to four years in jail in the 18-year-old case.