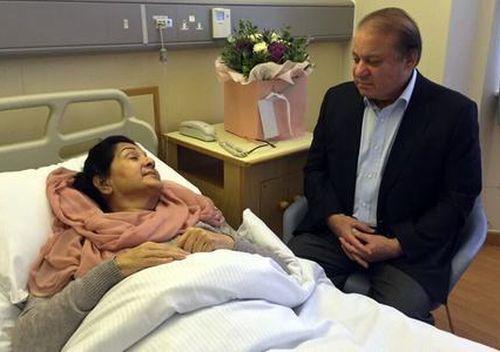 Begum Kulsoom Nawaz, the wife of Pakistan's jailed former prime minister Nawaz Sharif, died on Tuesday in London after a protracted battle with throat cancer.
Kulsoom, who was under treatment at London's Harley Street Clinic since June 2014, was placed on life support earlier on Tuesday after her health deteriorated, Geo TV reported.
The health of the 68-year-old former first lady began deteriorating Monday night as she had developed a lung problem again, the channel said.
Sharif's brother and Pakistan Muslim League-Nawaz president Shehbaz Sharif confirmed her death in a tweet.
'My sister-in-law and the wife of Nawaz Sharif sahib is no more amongst us. May God bless her soul,' he tweeted in Urdu.
Nawaz Sharif, his daughter Maryam and son-in-law Captain (retd) Muhammad Safdar are currently serving jail terms in Adiala Jail in Rawalpindi after being convicted by an accountability court in a corruption case in July.
Citing sources, the channel said Sharif, Maryam, and Safdar have been informed about Kulsoom's death.
The trio will be granted parole to attend the funeral of Begum Kulsoom, Geo TV reported.
The three will be granted parole from the time of Kulsoom's funeral prayers till her burial, it said, citing the Interior Ministry sources.
The Sharif family has decided to bring back Kulsoom's body to Pakistan, reports said.
PML-N party leader Khawaja Imran Nazeer, speaking to the media in London, said Begum Kulsoom may be laid to rest in the family home at Raiwind, near Lahore, but clarified that all decisions will be finalised only after consultation between family members.
He said in case the family decides to bury her in Pakistan, the repatriation process may take two or three days, Dawn newspaper reported.
Pakistan President Dr Arif Alvi condoled the death of Kulsoom. 'My condolences to the Sharif family on this loss. May her soul rest in peace,' he tweeted.
Prime Minister Imran Khan also condoled the death of Kulsoom.
In a statement, the prime minister said all facilities will be provided to the family and heirs of Kulsoom as per law.
Khan has directed the Pakistan High Commission in London to assist in provision of all necessary facilities to the family of the deceased, the statement said.
Army Chief General Qamar Jawed Bajwa also expressed grief over Kulsoom's death and extended condolences to her family.
'COAS expresses his grief and heartfelt condolences to the bereaved family on sad demise of Begum Kulsoom Nawaz,' the army spokesperson tweeted.
Pakistan Peoples Party Chairman Bilawal Bhutto Zardari also expressed his sadness over the death of Kulsoom, saying she was 'a brave woman who fought for democracy'.
The former first lady was diagnosed with lymphoma (throat) cancer in August last and had been in London since, where she underwent multiple surgeries and at least five chemotherapy sessions.
She was placed on a ventilator in June following a cardiac arrest. Her family reported a slight improvement in her condition on July 12, a day before her husband Sharif and Maryam were set to return to Pakistan after the accountability court sentenced them to jail.
She served as the first lady of Pakistan for three non-consecutive terms from 1990-1993, 1997-1999 and 2013-2017.
She also served as the president of the PML-N from 1999 to 2002, after her husband's government was toppled by former military dictator Gen Pervez Musharraf in a bloodless coup.
She was also placed under house arrest following Sharif's ouster by Musharraf in 1999.
Kulsoom was elected to Lahore's NA-120 constituency in a by-poll after her husband was disqualified from the seat by the Supreme Court last year. Due to her illness, she was unable to return and formally take oath for the seat.
She was born in 1950 in Lahore to a Kashmiri family. She graduated from the Forman Christian College in Lahore and received a Master's degree in Urdu from Punjab University in 1970.
From her maternal side, she was granddaughter of famous wrestler of the sub-continent Gama Pehlwan.
Kulsoom married Sharif in April 1971 and they have four children -- Hassan, Hussain, Maryam and Asma.
Unseen video of Sharif bidding farewell to his wife for last time goes viral
An unseen of video of Sharif bidding farewell to his wife for the last time has gone viral on social media soon after the death of the latter.
In the video, a visibly emotional Sharif can be seen talking to his unconscious wife in a London hospital before his return to Pakistan on July 12 to serve his 11-year jail term.
Sharif can be heard saying in Urdu, 'May God give you strength.'
'Open your eyes, Kulsoom,' he is heard pleading to her.
Ahead of his departure from London, Sharif had said his wife finally opened her eyes for a few seconds -- something he had revealed a day prior that he wished for.
He, however, regretted having to leave her in such state to return to the country.
At that time, he had said that he was leaving behind his ailing wife in Allah's protection and returning to Pakistan regardless of whether he was 'taken to prison or gallows'.