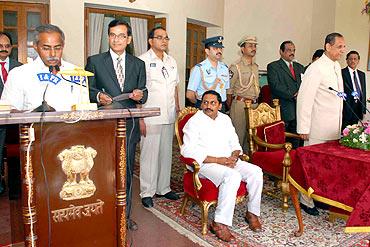 YS Vivekananda Reddy, younger brother of the former Andhra Pradesh Chief Minister YS Rajasekhar Reddy and uncle of rebel Kadapa leader Jaganmohan Reddy, was sworn into the 39-member new cabinet on Wednesday.
In a decisive move against Jagan, who had resigned from the Congress party and the Lok Sabha on Monday, the Congress leadership has also dropped four of his loyalists from the previous cabinet and brought in 11 new faces including Dr D L Ravindra Reddy, a known YSR baiter from Kadapa district.
Vivekanand Reddy, who returned from Kadapa after a bitter fight with his furious nephew on Tuesday, is the only member of the Andhra legislative council to be inducted into the cabinet, reflecting the importance the party was giving to him.
Andhra Chief Minister Nallari Kiran Kumar Reddy has given a lion's share to the Reddy community, traditional backbone of the Congress party in the state. The move was also being seen as part of the strategy to contain Jagan's threat to wean away the Reddy community from Congress.
Kiran Kumar Reddy has tried to strike a social and regional balance in his new team by giving representation to all the castes and districts. A castewise breakup shows that the upper castes have 18 berths in the cabinet. They include one each from the Brahmin, Kamma and Velama communities. Ten ministers are from backward classes, six from Scheduled Castes, two from Kapus and two from Scheduled Tribes. Muslim representation in the new cabinet remains confined to one.
The regional breakup shows Telangana has got a bigger share of 16 ministers followed by 15 from coastal Andhra and eight from Rayalaseema. Among the 23 districts, Adilabad in Telangana was the only district to go without representation, as it has only one Congress legislator. Guntur was ahead with four ministers followed by three each from Hyderabad, Kadapa and Medak.
Those dropped from the previous Rosaiah cabinet include Pilli Subhash Chandra Bose, B Srinivas Reddy, P Ramachandra Reddy and Shilpa Mohan Reddy, Gade Venkat Reddy.
Among the new faces in the cabinet -- which include former home minister K Jana Reddy, P Shankar Rao, Basavaraj Saraiah, Kasu Venkat Krishna Reddy, Shailajanath, E Pratap Reddy, Mahidhar Reddy, DL Ravindra Reddy, and YS Vivekanand Reddy -- there are seven debutants.
Members of the Rosaiah cabinet who retained their berths include Dharmana Prasad Rao, S Vijayrama Raju, Botsa Satyanarayana, P Balaraju, Vatti Vasantha Kumar, Prathasarathi, Kanna Lakshminarayana, M Venkatramana Rao, Manikya Vara Prasad Rao, Anam Ramanarayana Reddy, Galla Aruna Kumari, N Raghuveera Reddy, J Krishna Rao, D K Aruna, Geeta Reddy, Sunita Lakshma Reddy, Damodar Rajanarasimha, Sabita Indra Reddy R Venkat Reddy, K Venkat Reddy, Danam Nagendar, Mukesh Goud and Sudarshan Reddy.
All the five women ministers of the Rosaiah cabinet have also retained their positions in the new cabinet.
Governor ESL Narasimhan administered the oath of office and secrecy to the ministers at a morning ceremony at Raj Bhavan. The portfolios are likely to be announced soon.

Image: YS Vivekananda Reddy (left), the uncle of Jaganmohan Reddy, is being sworn-in in the new Andhra cabinet | Photograph: Snaps India