a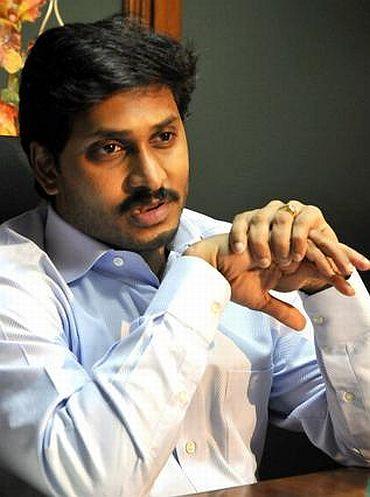 Jailed YSR Congress leader Y S Jaganmohan Reddy on Monday moved a special Central Bureau of Investigation court in Hyderabad with a plea to take up framing of charges and trial of all the chargesheets filed in connection with the disproportionate assets case against him together.
In a petition filed through his counsel before the Principal Special Court for CBI cases, Jagan sought that framing of charges and conducting of trial be done jointly in connection with the four chargesheets in the case.
The court is yet to take cognisance of the chargesheet (fifth one that also names Andhra Pradesh Home Minister Sabita Indra Reddy as an accused) filed on April 8.
Jagan and his financial advisor V Vijay Sai Reddy had last week moved the court and filed two memos challenging the filing of the (fifth chargesheet) by CBI on the basis of a single issue relating to Dalmia Cement.
Jagan had sought directions to the central agency to act as per the Supreme Court order with regard to filing of chargesheets in connection with the case against him for his alleged quid-pro-quo deals.
They contended that the CBI was acting contrary to the undertaking it gave to the Supreme Court as it told the court that it would file the final charge sheet in remaining seven aspects of the case. Arguments were on Monday held on Vijay Sai's memo and the court posted the matter for hearing to April 24 to enable CBI to file its counter.
Meanwhile, the court extended the judicial remand of Jagan, former Andhra Pradesh Excise Minister Mopidevi Venkata Ramana Rao, industrialist Nimmagadda Prasad, IRAS officer K V Brahmananda Reddy (all accused in Vanpic aspect of Jagan assets case) till April 29 after they were produced before it through video-conference from Chanchalguda Central Prison where they are currently lodged.
Jagan was arrested by CBI on May 27 last year on corruption charges and has been lodged in Chanchalguda Jail since then.


Meanwhile, the court also extended till April 29 the judicial custody of former Karnataka minister Gali Janardhan Reddy, his brother-in-law B V Srinivas Reddy and Gali's close associate K Mehfuz Ali Khan- all accused in the Obulapuram Mining Company scam case.
It also extended the judicial remand of Sunil Reddy, an accused in the Emaar scandal till April 29. CBI has accused Jagan of getting huge investments from various individuals and firms into his businesses as quid-pro-quo for the favours granted by the then government headed by his father and chief minister (late) Y S Rajasekhara Reddy.
The CBI has so far filed five chargesheets besides two supplementary charge sheets against Jagan and others. The CBI on Monday filed a status report before the court with regard to its probe in connection with the disproportionate assets case.
The central agency told the court that so far it has filed five charge sheets in the case and added the "investigation on six more aspects/issues are pending and they are in final stage of investigation."
The CBI, however, did not commit itself before the court whether it would be filing a final charge sheet after completion of investigation and said "...It is only at the conclusion of the investigation that a decision on whether to file a joint chargesheet or separate chargesheets will be taken."
Opposing Jagan's bail plea last year, the CBI had told the Supreme Court that it would file one final chargesheet as early as possible after an investigation was completed, by March 31, 2013.
The CBI had filed a report before the Supreme Court stating that investigations were still on about seven aspects, namely Sandur Power, grant of miling lease to Bharati/Raghuram
Cements, Penna Cements and its group companies, Dalmia Cements, India Cements, investments through shell companies based in Kolkata and Mumbai, popularly known as suitcase companies, the Lepakshi Knowledge Hub project, as well as Indu Projects.
However, the central agency filed a fifth charge sheet on April 8 about alleged investments made by Dalmia Cements and two other cement firms, Eeswar Cements and Raghuram Cements, in businesses allegedly promoted by Jagan