Death was staring them in the face as flood waters rapidly rose and there were no rescuers in sight. Relief came only after the Indian Army, the Indian Air Force and teams from the National Disaster Rescue Force swung into action with the needed equipment. And with that, dimming hopes soared, says our correspondent Mukhtar Ahmad, who himself had a narrow escape in Srinagar.
Khalida Bano, left home early on Wednesday morning along with husband. Wading through knee water, Khalida, is searching for her mother and brother who are trapped in the flooded Rajbagh locality of the capital city. Khalida visited almost all the relief camps set up in the unaffected uptown areas. "The last time I spoke to my mother and brother was on Sunday morning. They had taken shelter in the attic of the house as flood waters had occupied the first two floors of the house. "My mother is diabetic and I have no clue whether or not she has the medicine to take care of her health. The telecommunication breakdown has made matters worse and I have no information."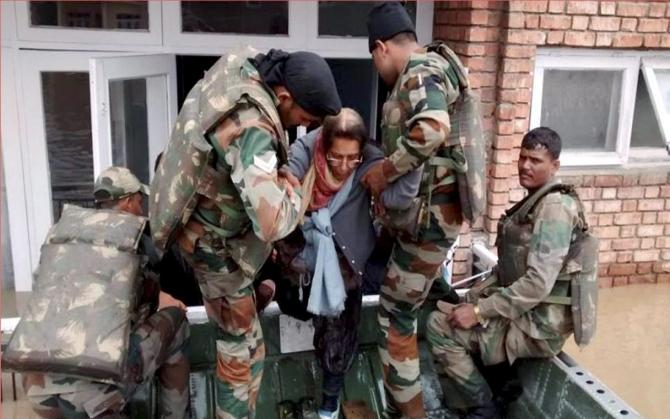 Army soldiers rescuing a woman in a flooded locality in Srinagar on Wednesday. Photograph: PTI
---
"I have been pleading with the authorities to rescue my mother. I had even offered to accompany a search team for the purpose, but they refused saying their hands were full." Javed Farooqui, a retired senior police officer has a similar tale to tell. He too was surprised by flooding of his house in the uptown Gogjibagh area and had to take shelter in the third floor of his house to save himself and his wife. The rescue team reached him three days later, after which they shifted his wife first and he himself had to wait another 24 hours for the rescue. "I was hearing desperate cries of children and elderly people for help as the rescue boats were passing them. That added to our anxiety, while we were holding on to the rope that we had tied to .
IAF soldiers carry out winching operation to rescue flood-affected people stranded on a roof in Srinagar. Photograph: PTI
---
This is not a singular story, but a refrain from a large number of affected people who are fuming at the delayed rescue effort mounted by the authorities to deliver them from a precarious situation. Death was staring them in the face as flood waters rose, and there were no rescuers in sight. The rescue effort became visible only after the Indian Army, the Indian Air Force and teams from the National Disaster Rescue Force arrived with the needed equipment. And with that, dimming hopes soared up. The uptown posh localities, who in their living memory have never witnessed flooding beyond minor water-logging in their localities, were suddenly deluged by the Jhelum and its flood spill channel as they are sandwiched between the two. Both waterways over-ran their raised embankments and spilling waters started gushing down embankments and inundating the Rajbagh, Jawahar Nagar, Wazir Bagh and Gogjibagh .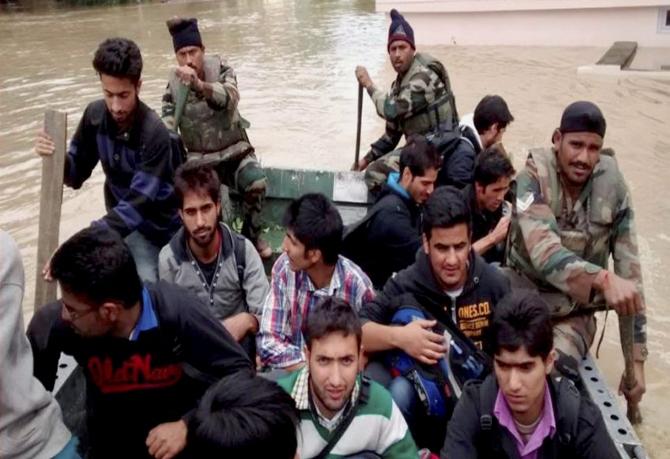 Army soldiers rescuing people in a flooded locality in Srinagar. Photograph: PTI
---
The filling up of the in between localities was so sudden and swift that majority of the residents were taken by surprise. "The announcement from a mosque loudspeaker warning residents of the immediate danger of approaching waters woke me up. I looked out of my bedroom window and saw the flood waters trickling in from under the main gate into our compound. I shook my husband awake, ran down the stairs and grabbed a few bottles of water and my medicine kit. My husband who also came down picked up an LPG cylinder and both of us ran back to the first floor," said 60-year old Ifat Najeeb, a resident of Gogjibagh. "Suddenly, I heard a loud thud which made me again look out of window.
I could not believe my eyes as I saw the front gate had been flung open by the gushing waters which were racing upwards and covered the first floor level in no time. We ran up another floor even as the water levels rose to the second floor level," she said. "The situation made us run up another floor and take shelter. It was because of the mercy of the Almighty that the waters didn't rise further. Otherwise, it would have swallowed us along with the house," a visibly-shaken Ifat said.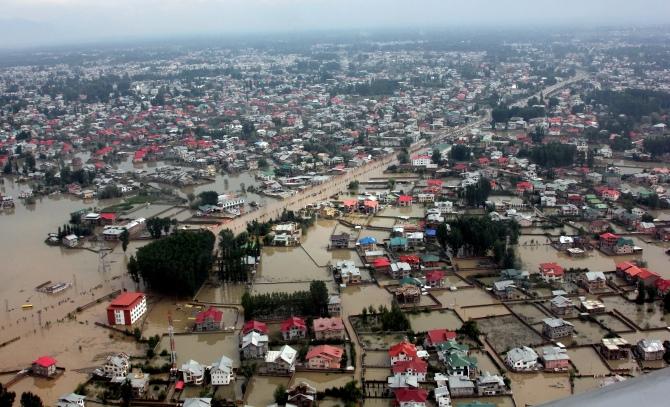 An aerial view of flooded areas of the Srinagar. Photograph: PTI Photo
---
The widespread deluge caused by five days of torrential rains has caused devastation of a scale unseen before. Srinagar and the south Kashmir districts of Anantnag, Shopian, Kulgam and Pulwama were also badly hit by the floods triggered by the five-day spell of torrential rains which began on September 2. The floods also caused devastation of vast magnitude in the Jammu region. Flash floods triggered by the rains took a heavy toll of infrastructure, properties and lives.
The losses caused to infrastructure, businesses, crops are incalculable. In one single incident, a passenger bus carrying over 50 people, mostly members of a marriage party including the bride and groom, was overturned by flash floods at a causeway and the passengers swept away. So far, 26 bodies have been recovered and search for others is still on. The loss of life caused by the rains and floods is over 150. Skies in capital Srinagar are abuzz with chopper sounds that begin at day break and continue until sundown. The helicopters carry out rescue and relief operations, providing much needed succour to the flood-ravaged people.
Army soldiers and civilians rescue an elderly flood victim in Srinagar. Photograph: PTI
---
A defence spokesman said that 239 army columns have been deployed in Jammu and Kashmir along with 80 medical teams. An approximate 58,000 persons have been rescued and 9,550 persons have been provided medical aid. "In Srinagar, the army has deployed an additional 89 boat teams.
So far, more than 9,500 persons have been rescued from Srinagar and 2,000 persons have been provided shelter at the Badamibagh Cantonment. About 355 persons requiring immediate medical attention have been evacuated by the army aviation helicopters until now," he said.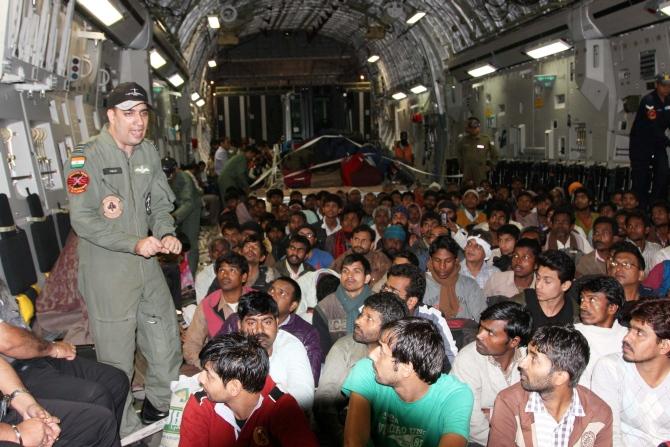 Flood-affected people, rescued from various parts of J & K, being flown to Chandigarh by a C-17 Globemaster III. Photograph: PTI
---
"In the effort to revive communication in the affected areas, the army had already provided satellite phones to the civilian administration. An additional nine satellite phones and 100 mobile cell communication sets were distributed to civilian officials for coordinating the relief effort," he added. "A lot of work waits to be done, given the scale of devastation," admits a senior state government officer. Lots of people are still stranded in the worst hit areas of the capital city and Khalida is still waiting to hear from her mother and brother or about their whereabouts.