Separatists have called for a general strike on Thursday against the "civilian killings"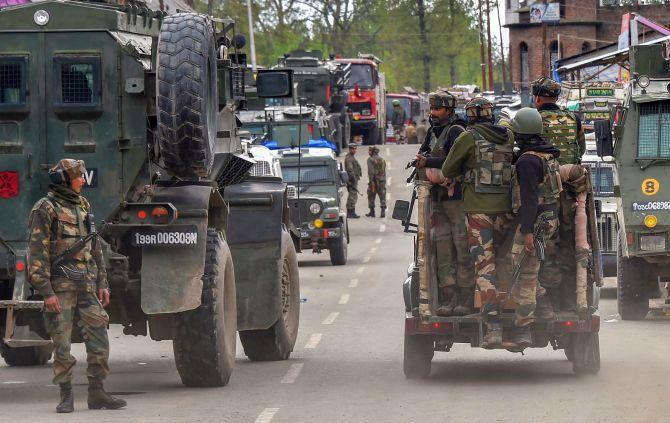 An army jawan was killed in an encounter between terrorists and security forces, while four civilians also lost their lives in the crossfire in south Kashmir's Kulgam district after which the operation was suspended and three ultras who were holed up escaped, officials said on Wednesday.
The joint team of the army, police and the Central Reserve Police Force called off the operation, which started last night, in the afternoon as people continued to gather at the encounter site.
Two videos, purportedly showing the crowd helping in the escape of the terrorists and later cheering them as they were seen fleeing on motorcycles, surfaced on various social networking sites.
The three terrorists managed to escape after civilian casualties increased.
Senior police officers, while briefing reporters, said there was specific intelligence about the presence of three local terrorists owing allegiance to the Pakistan-based Lashkar-e-Tayiba terror group at a house in the Khudwani area, following which a security cordon was put in place at 10 pm last night.
The security forces suffered a setback at the start of the operation as a jawan identified as Sapper Sada Gunakara Rao, 24, was injured and rushed to the army base hospital here. Rao, who hailed from Andhra Pradesh, later succumbed to his injuries.
Meanwhile, the gun-battle outside the house where the terrorists were holed up continued with bullets flying in every direction, the police said.
The house was on the banks of the Jhelum and locals started gathering on the other side of the river, officials said.
Repeated requests were made to the civilians to clear the area as they were within range of the gun shots being exchanged between security forces and terrorists. But, the warnings went unheeded and four civilians were killed in the crossfire, they said.
The four slain youths were identified as Sharjeel Ahmed Sheikh (25) of Khudwani, Bilal Ahmad Tantray (16) of Frisal, Faisal Ilahi (14) of Melhoora Shopian and Aijaz Ahmad Pala of Bijbehara. Police said Sheikh was involved in an Arms Act case.
"In the encounter, four civilians, who were injured in the crossfire, succumbed to their injuries," a police spokesman said.
However, some people in Kulgam alleged that the four were killed when security forces opened fire on a crowd that was proceeding towards the encounter site.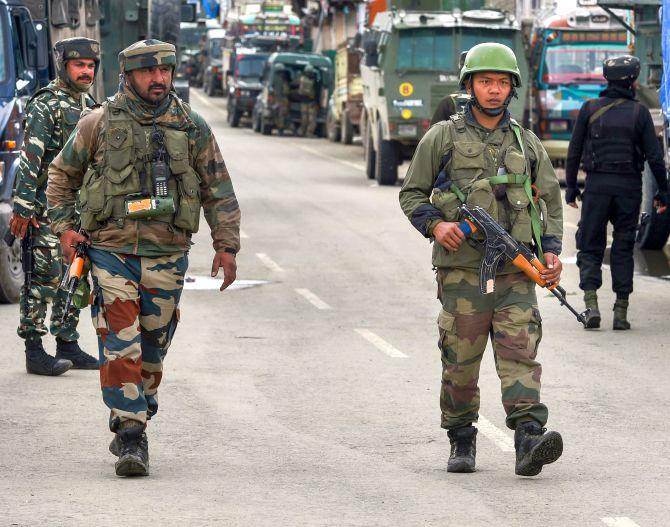 Police officials said that after the civilians were killed in the crossfire, the operation had to be called off, to allow police and the CRPF to disperse the mob that had gathered across the river.
It emerged that three militants, including one who was seriously injured, had escaped after the rubble from the house was cleared, officials said.
Police spokesman, however, said there were two terrorists holed up and later escaped.
Police identified the injured terrorist as Azad Dada, who is wanted in a number of serious cases involving killing of civilians.
There were clashes between protesters and security forces, resulting in injuries to 24 people, they said.
While three people injured were sent home after treatment, 21 were still in the hospital and their condition was stable, officials said.
As the news of civilian deaths spread, protests broke out in several areas of north Kashmir, including Baramulla, Bandipora and Sopore towns, officials said.
Several security forces personnel, including the station house officer of Baramulla police station, were injured in stone pelting by the protesters.
Principal opposition party National Conference tweeted that this was a "costly encounter" because of killing of civilians and an army personnel.
Jammu and Kashmir Chief Minister Mehbooba Mufti, who called on Union Home Minister Rajnath Singh in the morning in New Delhi, flew to Srinagar instead of Jammu to review the law and order situation in the Valley.
Expressing her grief, she said there was an urgent need "to get together to get Jammu and Kashmir out of this vicious cycle of violence and killings".
Communist Party of India-Marxist leader M Y Tarigami said, "Seeing dead bodies of young persons has now become a tragic routine and condemnations and denouncements too had become rituals.
"Our repeated cries for sanity and calm handling of the issues are also falling on deaf ears. Every week new tragedies are unfolding...This has to stop now."
Meanwhile, separatists under the banner of joint resistance leadership called for a general strike on Thursday against the "civilian killings".
Hurriyat Alliance Kashmir also said that there will be peaceful protests on April 13 and a "Khudwani Chalo" campaign on Saturday to protest against civilian killings.
© Copyright 2019 PTI. All rights reserved. Republication or redistribution of PTI content, including by framing or similar means, is expressly prohibited without the prior written consent.