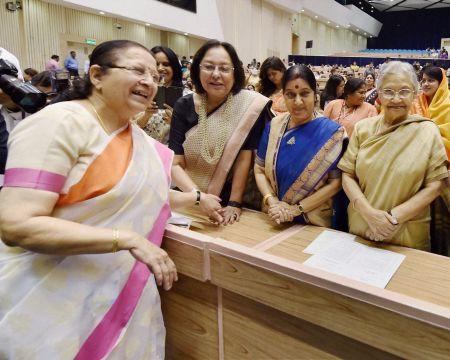 Members, cutting across party lines in Rajya Sabha, made a passionate plea for early passage of the legislation to provide 33 per cent reservation to women in Parliament and state assemblies on the International Women's Day on Tuesday.
While the Rajya Sabha had exactly six years ago passed the Women's Reservation Bill, the legislation has since been pending in Lok Sabha.
To mark the Women's Day, the Upper House decided to allow all women lawmakers, who had given notices to raise Zero Hour mentions, the first chance.
Congress members took credit of getting the bill passed in Rajya Sabha during the United Progressive Alliance rule on March 9, 2010 and sought to know what the present government was doing when it had absolute majority in the Lok Sabha.
Deputy Chairman P J Kurien suggested a discussion on the women's reservation issue. "We can put indirect pressure so that bill is passed (in Lok Sabha)," he said.
Minister of State for Parliamentary Affairs Mukhtar Abbas Naqvi said the government was ready for a discussion on the issue.
Minority Affairs Minister Najma Heptulla said she, as a minister, cannot give zero hour notice but would want to speak on the issue. She lamented that the Constitution Amendment Bill was passed by Rajya Sabha but was still pending in Lok Sabha, adding that the matter was first debated in 1995.
"I hope this year, the Bill will be passed," she said and observed that she would be happy when ordinary women get empowered.
Heptulla said women are still discriminated against and the House should pass a resolution for a cleaner society where women are protected. "I feel not only women but time has come for men too to speak about women's empowerment," she said.
Deputy Chairman P J Kurien said Rajya Sabha can take pride that it has passed the women's reservation bill. "All of us expect and hope it becomes law of land."
Viplove Thakur of the Congress said child marriages are prevalent even today in Jharkhand, Chattisgarh, Telengana and Andhra Pradesh and added that this day should not be merely celebrated as a mere ritual.
Rajani Patil from the Congress said Rajiv Gandhi showed the way through the 73rd Amendment providing reservation in village panchayats and Manmohan Singh showed political will by getting the women's bill passed in Rajya Sabha.
She asked Prime Minister Narendra Modi to show political will and "pass it in Lok Sabha where you have majority" and said there was a need to change the mindset.
Sasikala Pushpa of the All India Anna Dravida Munnetra Kazhagam said while the women's reservation issue has got just lip sympathy so far, women continue to be discriminated and harassed.
Stating that most effective form of empowerment was participation in decision-making, she went on to list the women-friendly moves by the Tamil Nadu government.
Ambika Soni of the Congress said UPA just did not pass the women's reservation bill in the Upper House but also enacted domestic violence bill and created an all-women's banks which the BJP-led government was "abandoning".
She also said that the Rs 1000 crore for Nirbhaya fund is being given back instead of enhancing it and added that the Budget for 2016-17 does not have any proposal for women.
Prime Minister's speech at the conference of women legislators did not have a word on women's reservation, she said.
Kumari Selja of the Congress lamented that Prime Minister Narendra Modi did not refer to the women's reservation bill during the recent two-day women conference. "The two-day conference was just tokenism," she said.
While several political parties have women as Presidents, the ruling BJP has never had any woman president, she added.
Noting that women are referred as Durga and Lakshmi, Selja said: "Don't make women God, let only women be women".
Another senior Congress leader Renuka Chowdhury asked male MPs in the House to speak for women and said it was only former Prime Minister Rajiv Gandhi who had empowered women by giving them reservation in panchayati raj institutions.
Women were "not an object of entertainment ... We are not perks of your jobs," she said while saluting women like the mothers of Nirbhaya and Rohith Vemula who are fighting for rights.
© Copyright 2023 PTI. All rights reserved. Republication or redistribution of PTI content, including by framing or similar means, is expressly prohibited without the prior written consent.